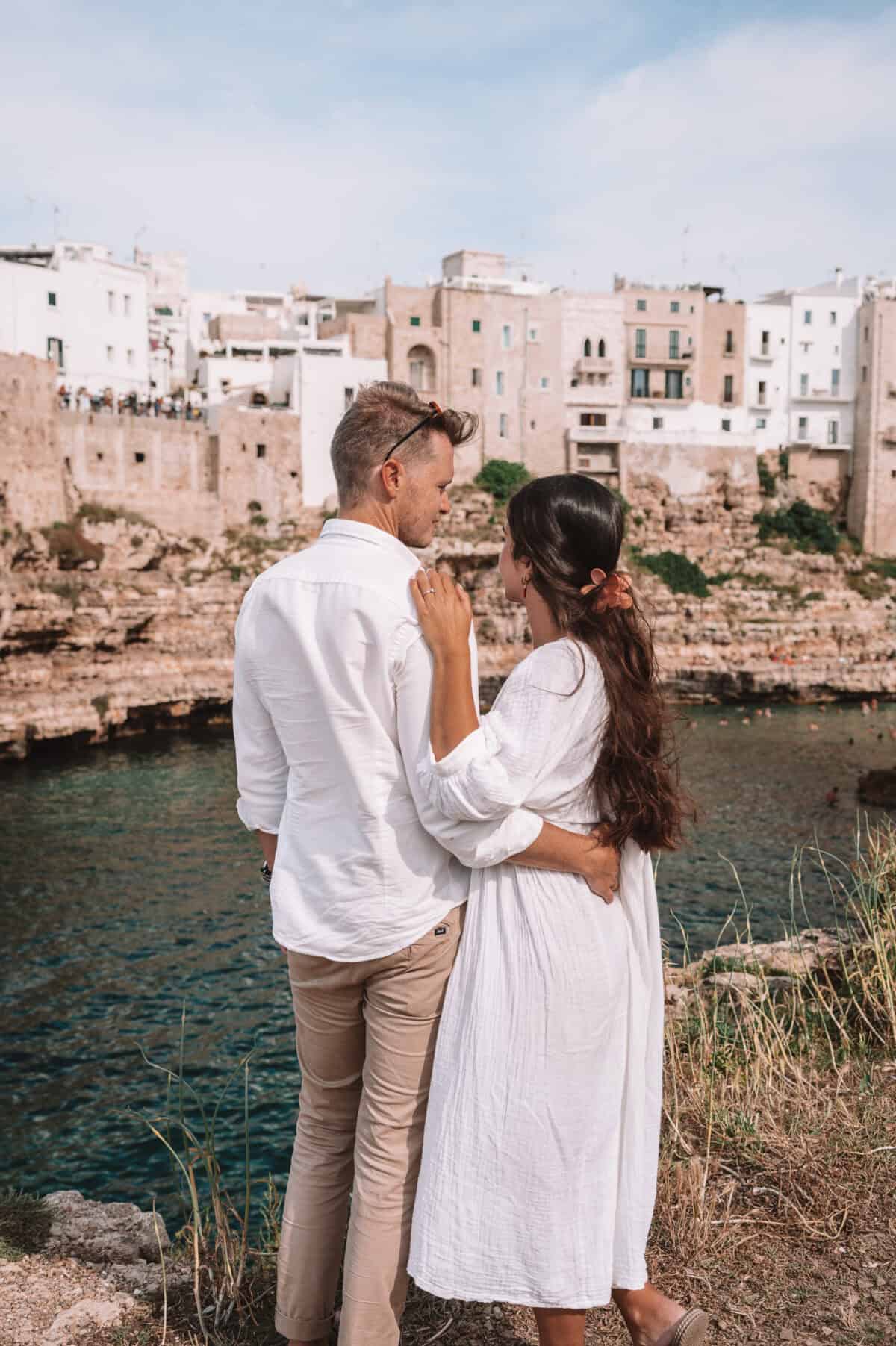 Puglia's Hidden Gems: 5 Places You Can't Miss
If you have been following our adventures, you may have seen we visited Puglia and today we are sharing Puglia's Hidden Gems, 5 Places You Can't Miss
In this Puglia guide we will share all the information about Matera, Alberobello, Polignano a Mare, Monopoli & our stay at a Masseria
1. Matera
Things to Do
Explore the Sassi di Matera:
Start your journey by exploring the captivating Sassi di Matera, ancient cave dwellings that are a UNESCO World Heritage Site.
Wander hand in hand through the narrow alleys, admiring the unique architecture and soaking up the historical atmosphere.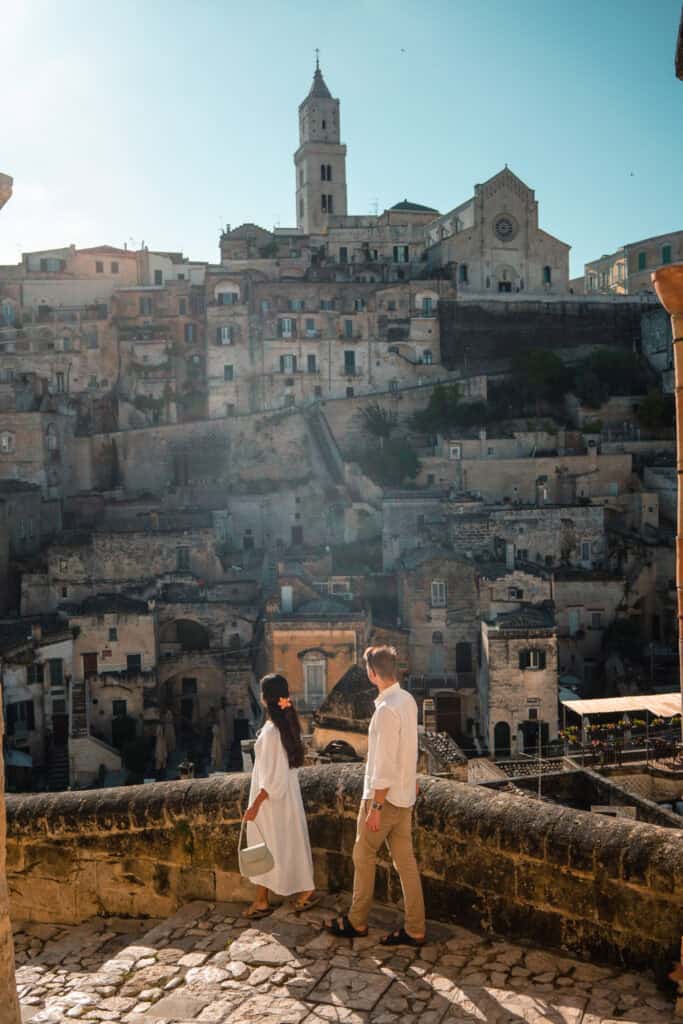 Visit the Cave Churches:
Discover Matera's rich history by exploring the cave churches together. These remarkable sanctuaries, such as Chiesa di San Pietro Caveoso and Chiesa di Santa Maria de Idris.
If you are heading to Florence next, read our article about our favorite places here
Preserved cave dwelling that offers insights into the daily life of Matera's past residents. It's a fascinating experience that allows you to step back in time together.
Romantic Sunset Stroll:
Take a leisurely walk through the Sassi di Matera in the early evening, hand in hand. As the sun sets, the soft golden light illuminates the stone facades, creating a truly romantic atmosphere.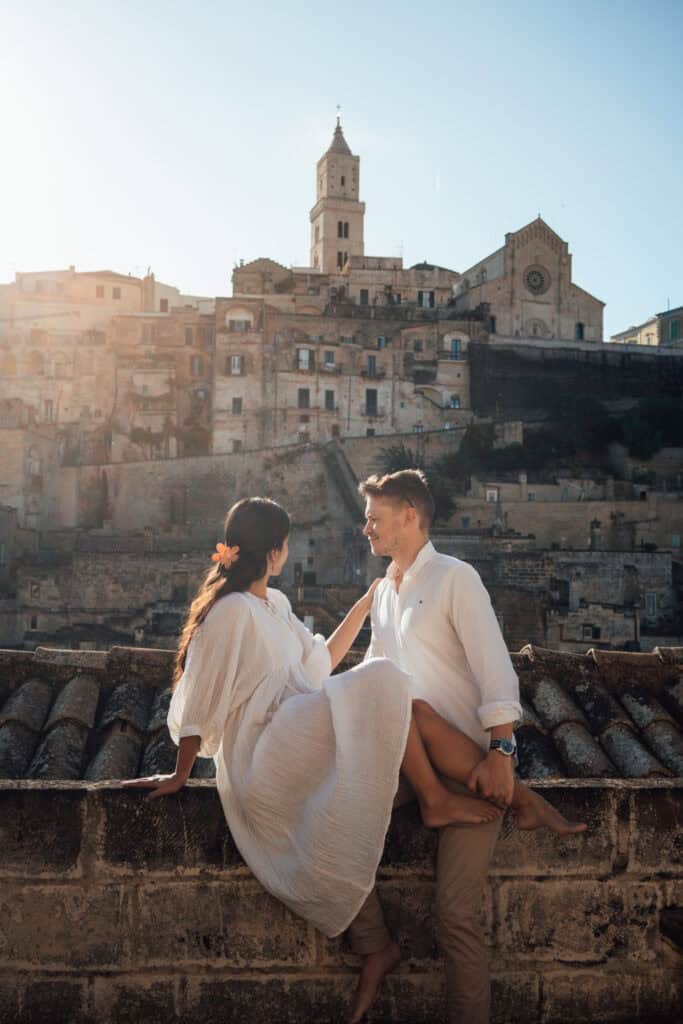 Cave Dining Experience:
Enjoy a unique dining experience in one of Matera's cave restaurants. 
Some vegan options include pasta, pizza and bruschetta.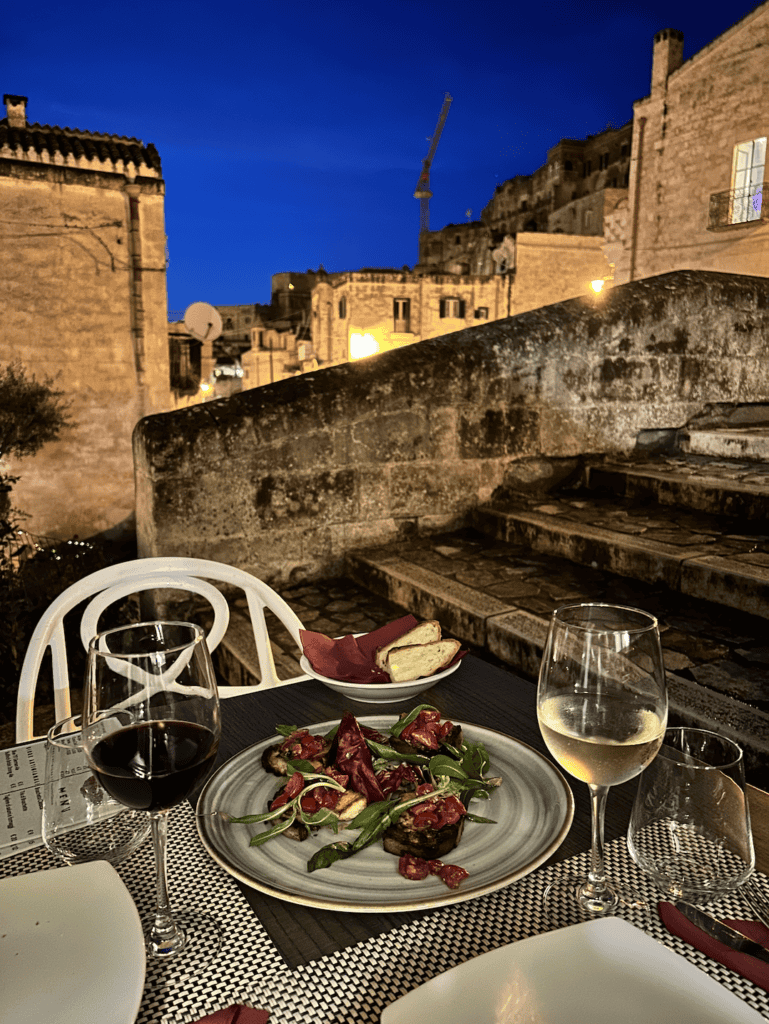 Where to Stay:
2. Alberobello
Alberobello, nestled in the heart of Puglia, Italy, is a picturesque village that feels like it's straight out of a fairy tale.
Its iconic trulli houses, with their conical stone roofs, create a scene that's as beautiful as it is unique.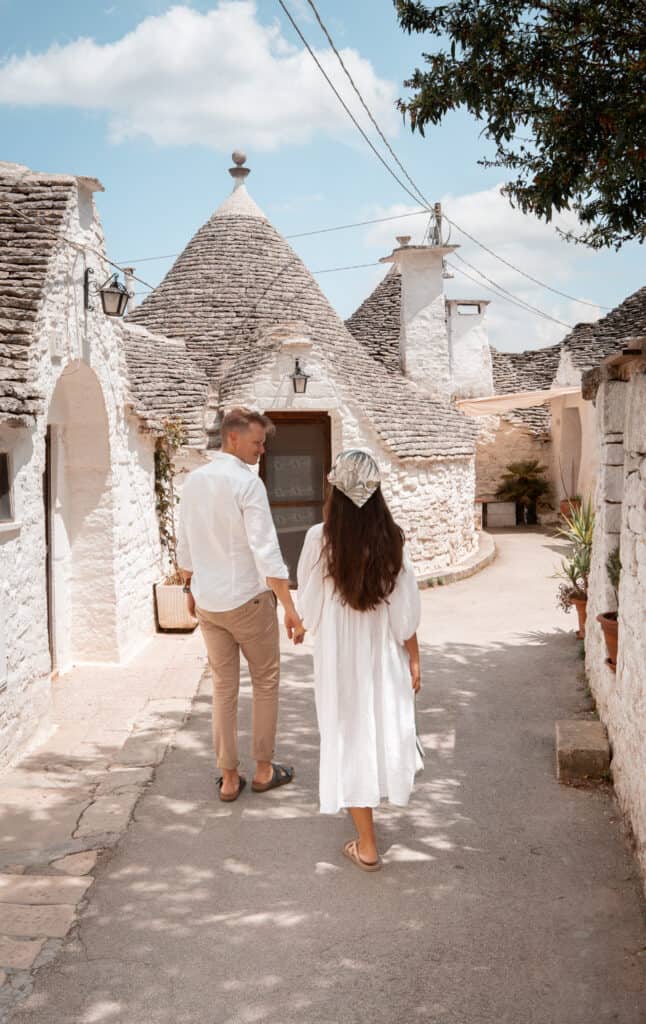 Getting Here: 
By Train: To reach Alberobello, you can take a train to Bari, then a local train to Alberobello station.
Do you prefer to visit a more colorful town? Read our article about The Best Itinerary for Cinque Terre, Italy
By car/motorbike: Alternatively, renting a car allows for more flexibility and scenic stops along the way. Located around 1h from Bari.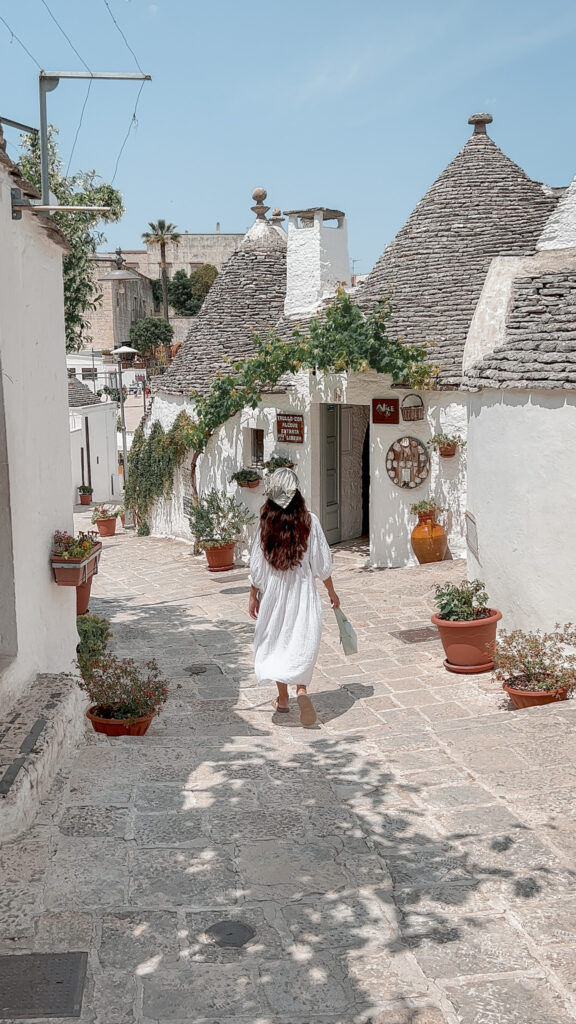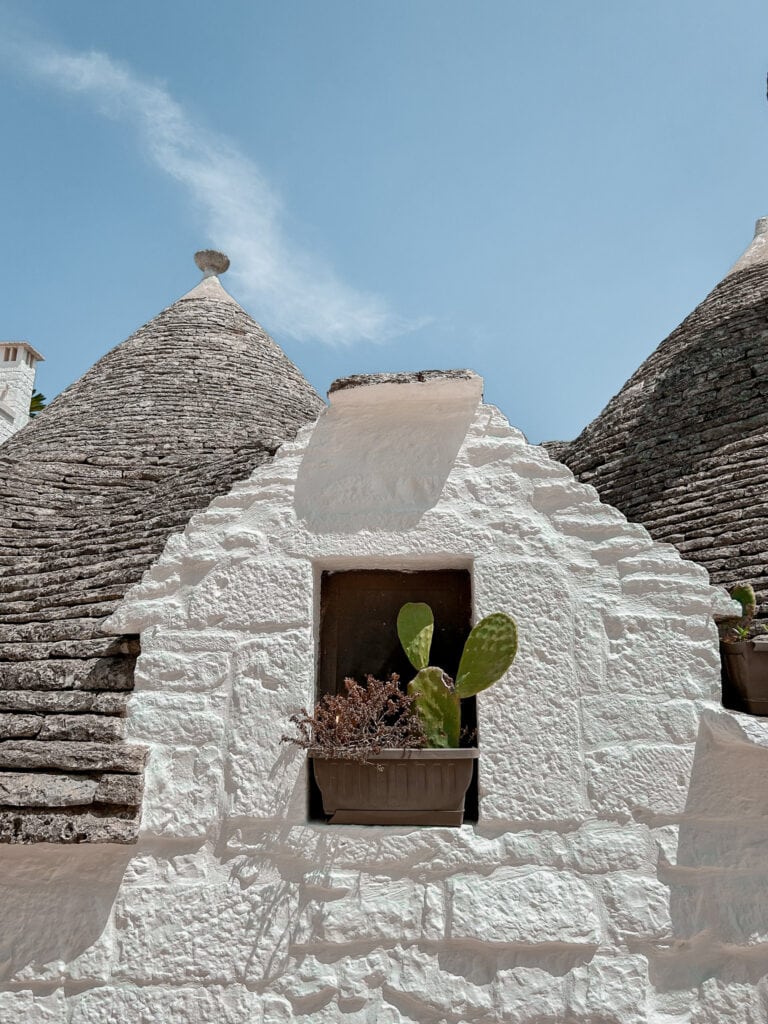 Parking:
Parking is available just outside the historic center, making it convenient for travelers.
From there, it's a short walk into the enchanting trulli district.
It costs 6$ for the entire day in the closest parking.
What to Do:
Trulli Exploration: Explore and get lost through the amazing trulli.
In the main street you will find cafes and museums and if you keep walking you will be alone without the crowds. 

Trullo Sovrano: Visit the Trullo Sovrano, a two-story trulli house that provides insight into the region's history and architecture.

Taste Local Delights: Savor authentic Puglian cuisine at local restaurants, where you can try dishes like orecchiette pasta and pasticciotto pastries.

Souvenir Shopping: Alberobello offers unique crafted ceramics and trulli-inspired gifts.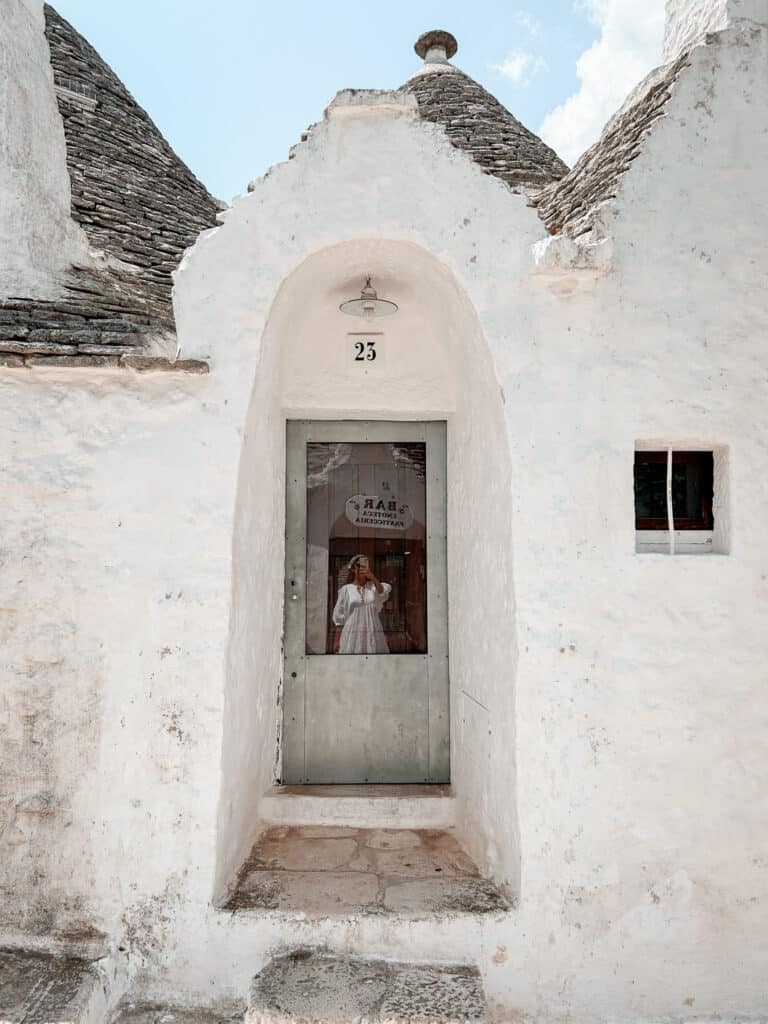 Alberobello is a must-visit for couples seeking a charming and romantic escape.
Its timeless beauty and rich history make it a place you'll want to return to again and again.
3 Polignano al Mare
Polignano al Mare, famous for its cliffs of the Adriatic Coast in Puglia, Italy, is a coastal town that epitomizes romance.
Its breathtaking views, crystal-clear waters, and charming old town will sweep you off your feet.
Read how to plan a Romantic Weekend in Rome here
Getting Here:
By Train: Arrive at Bari Central Station, and from there, take a short train ride to Polignano al Mare and enjoy the views.

By Car:  It's about a 40-minute drive from Bari. We parked just outside the old town on a free space.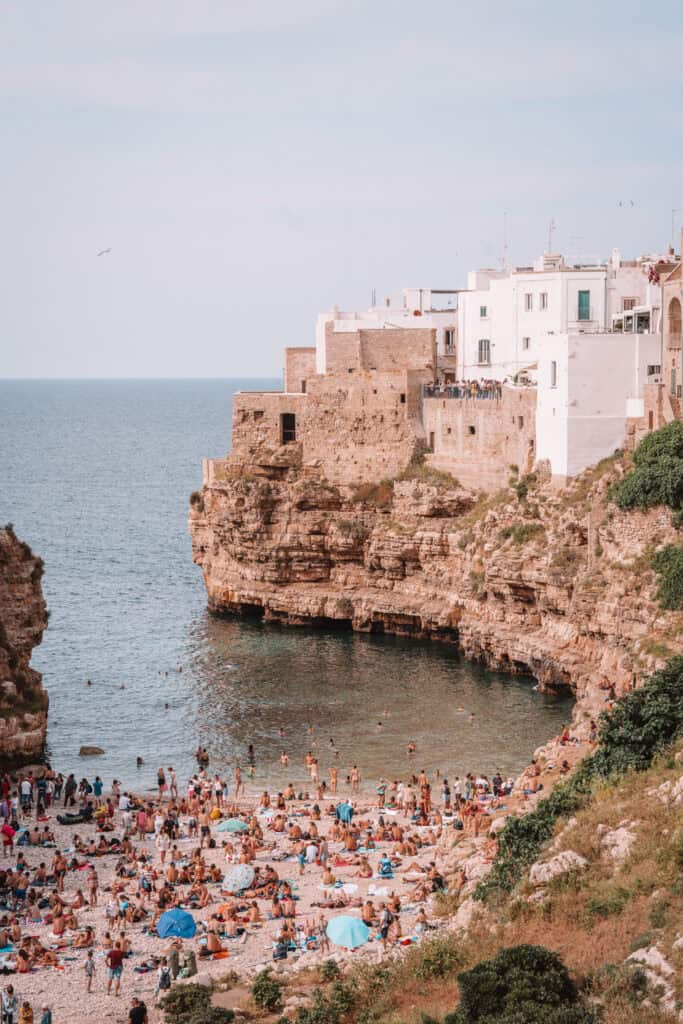 What to Do:
Old Town Exploration: Wander through the labyrinthine streets of the old town, where whitewashed buildings seem to hang over the cliffs.

Beach Bliss: Relax on the town's small but beautiful beaches. The crystal-clear waters are perfect for swimming and sunbathing. Make sure to get your spot on time as it gets very busy here

Grotta Palazzese, famous restaurant $$$$: Situated inside a cave overlooking the sea. It's an unforgettable spot for a romantic meal. Around 200$ per person

Diving and Snorkeling: Dive into the Adriatic Sea and explore the underwater caves and marine life. Snorkeling is also a fantastic way to appreciate the clear waters.

Cliff Lookout: One of the most amazing views is from the lookout in front of the old town where you can enjoy an amazing view and locals cliff jumping into the ocean.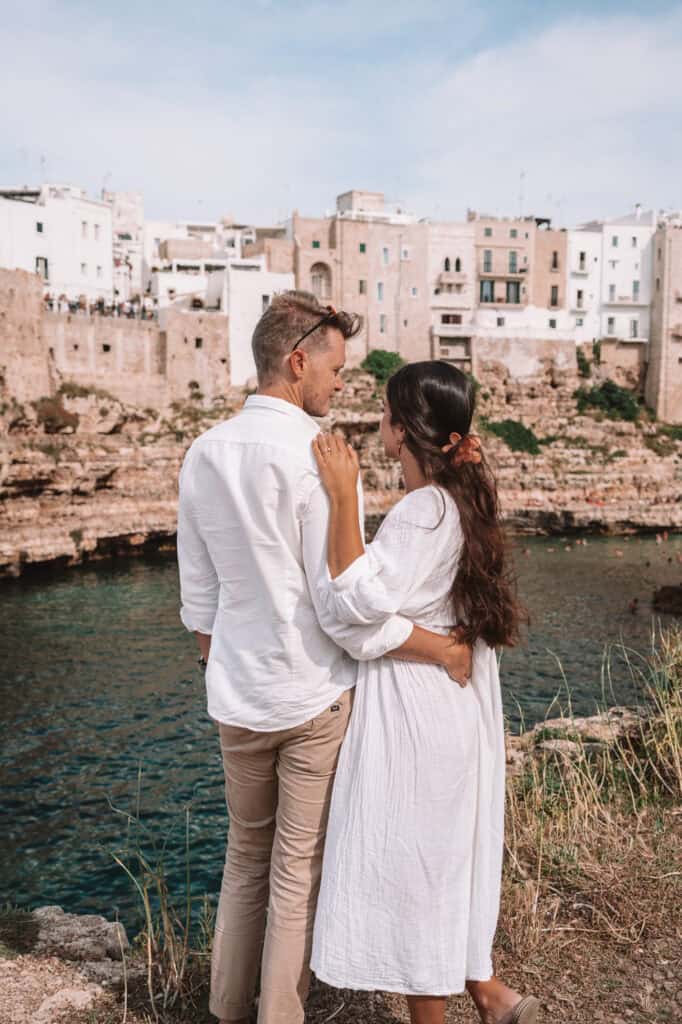 Polignano al Mare is a hidden gem for couples seeking a romantic coastal escape. Its breathtaking views, charming old town, and culinary delights will make you fall in love with this city
4. Monopoli
Monopoli is located along the picturesque coast of Puglia, Italy. With its historic old town, stunning beaches, and delectable seafood, Monopoli is a hidden gem waiting to be explored.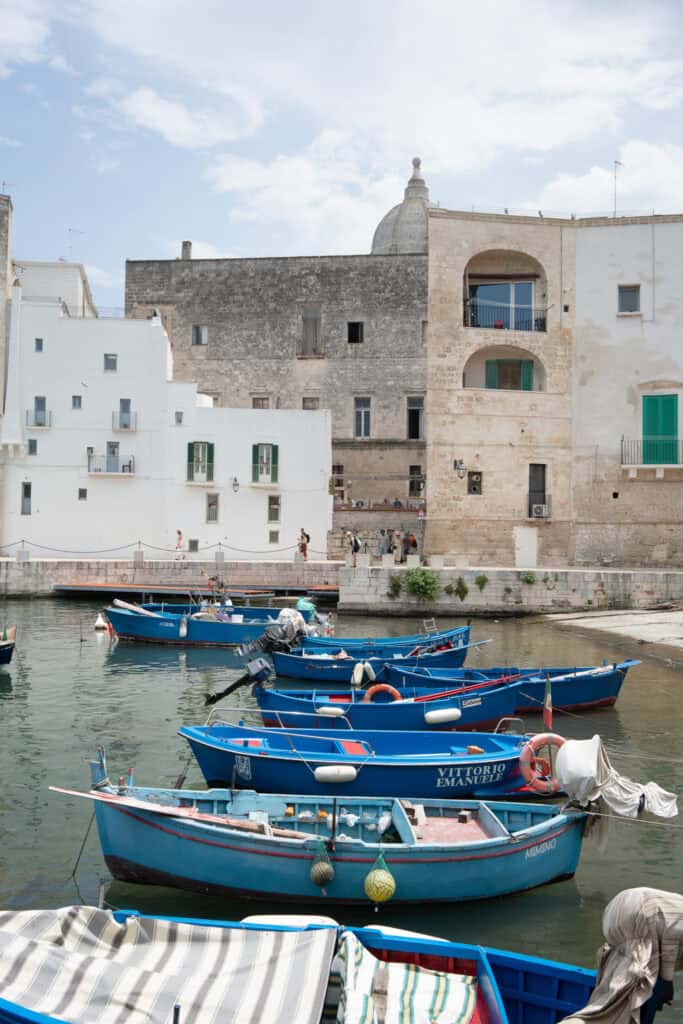 Getting Here:
By Train: There is a direct train from Bari to Monopoli

By Car: The drive from Bari to Monopoli takes approximately 40 minutes.
Parking:
Parking options can be found both near the historic center and along the waterfront. Prices for parking may vary.
What to Do:
Historic Old Town: Begin your adventure by wandering the enchanting streets of the historic old town. Admire the well-preserved architecture, including Baroque churches and charming piazzas.

Boat Tours: Consider taking a boat tour to explore the nearby caves and grottoes, such as the fascinating Grotta delle Rondinelle.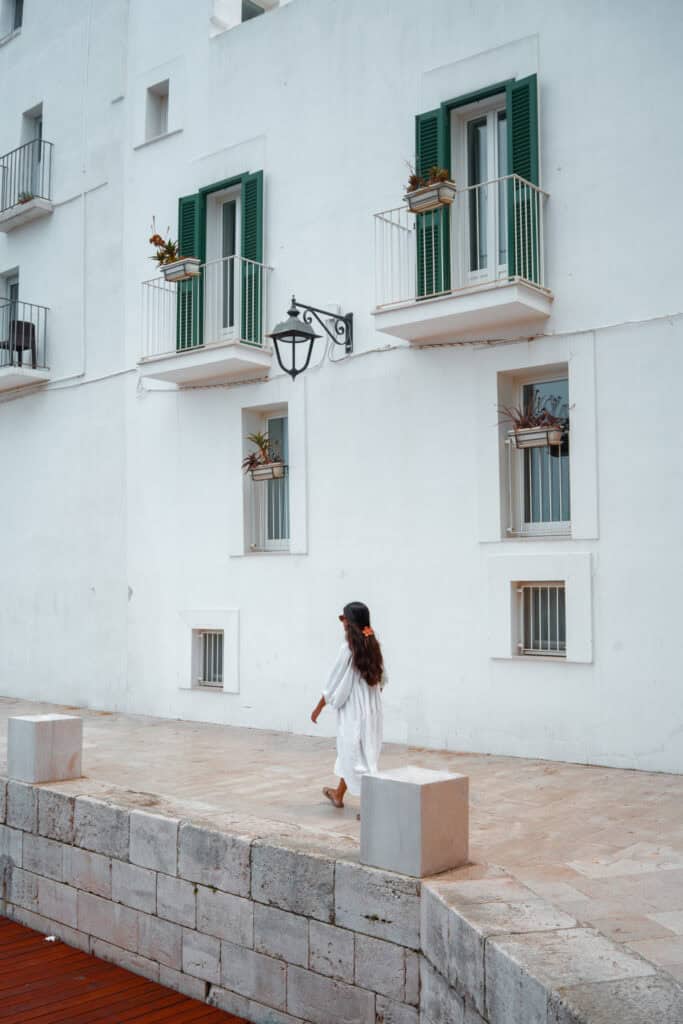 Its blend of stunning scenery, cultural treasures, and culinary delights will leave you enchanted and eager to return.
5. Masseria Montenapoleone
Nestled in Puglia's tranquil countryside, Masseria Montenapoleone is a 17th-century farmhouse turned luxurious retreat. Combining history and elegance, it offers a sustainable and romantic escape.
Read our Full Guide about Our Stay at Masseria Montenapoleone Here
Getting Here:
By Car: Rent a car for a scenic 1.5-hour drive from Bari.
Parking:
The Masseria provides secure parking for guests.
What to Expect:
Historical Charm: Explore the lovingly restored farmhouse, steeped in history and architectural beauty.

Gardens and Comfort: Stroll through lush gardens and unwind in opulent rooms.

Gourmet Dining: Savor local cuisine, emphasizing fresh, sustainable ingredients.
Vegan Dining and Sustainability: The Masseria caters to ethical travelers with vegan options and eco-conscious practices.

We enjoyed a 7 course vegan meal by the vineyard while we enjoyed a magical sunset
Want to know more about it? Read Our Full Guide Here & All Photographs here
Masseria Montenapoleone offers sustainable luxury, perfect for a romantic getaway. Its historical allure, lush surroundings, and ethical practices make it a destination worth returning to.
Read Our Stay at Masseria Montenapoleone, a perfect romantic hotel