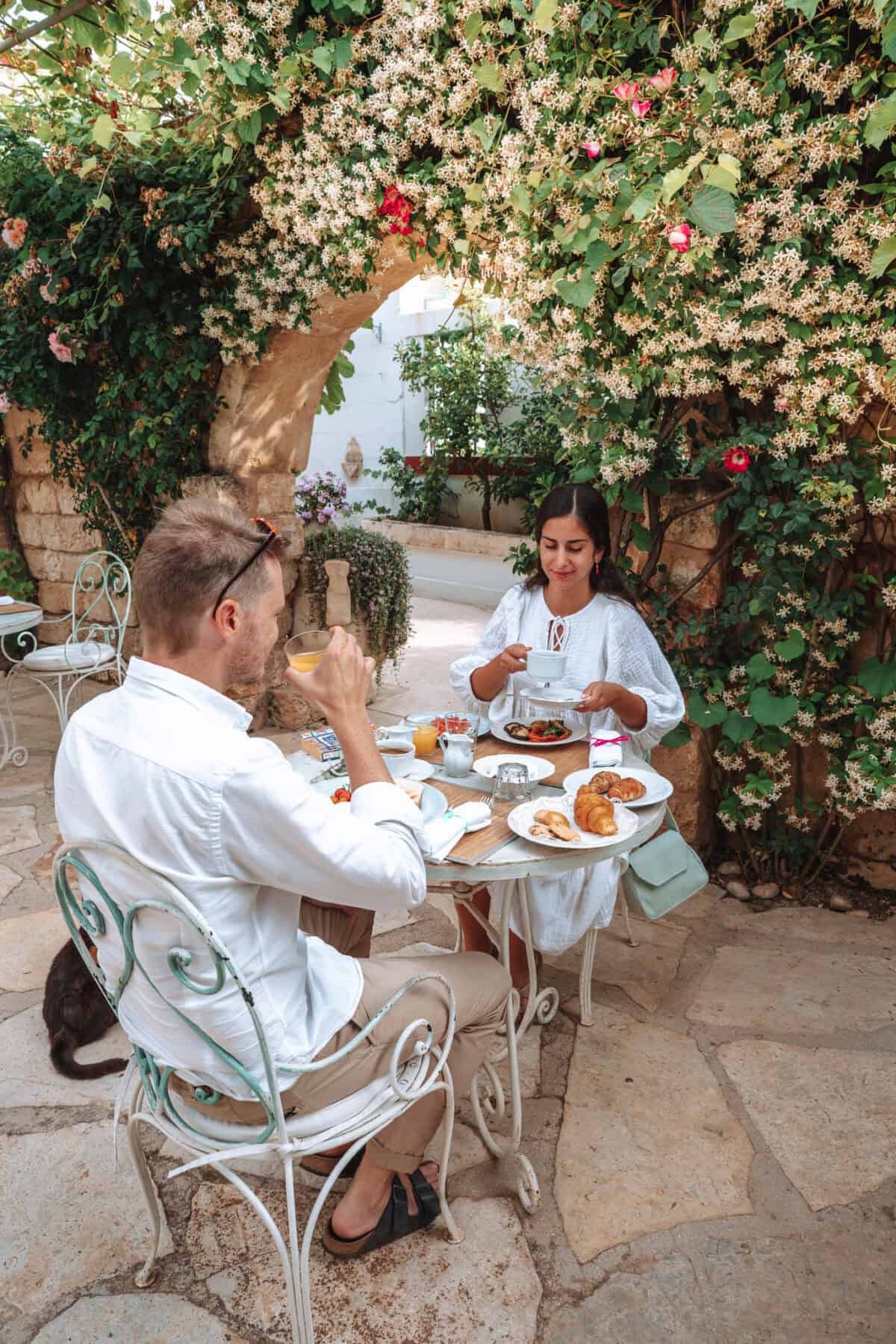 Masseria Montenapoleone in Puglia: Our Unforgettable Stay
Nestled in the serene countryside of Puglia, Italy, Masseria Montenapoleone is a hidden gem that redefines luxury in a sustainable and romantic way.
My recent visit to this 17th-century farmhouse turned upscale retreat left us enchanted.
Read about Puglia's Hidden Gems, 5 locations you cannot miss here
Arrival:
We opted for a scenic 1.5-hour drive from Bari, relishing in the picturesque journey through Puglia's countryside.
Upon arrival, secure parking awaited, assuring a worry-free stay.
If you are also visiting other towns in Puglia, Check our Guide Here
Historical Charm:
Stepping into the lovingly restored farmhouse felt like a journey back in time.
The history and architectural beauty of Masseria Montenapoleone are evident in every detail.
To top it off, a complimentary welcome wine set the tone for an unforgettable stay.
Gardens and Comfort:
The Masseria's lush gardens provided a tranquil backdrop for leisurely strolls. Our opulent room was a haven of comfort, and the pool beckoned for relaxation.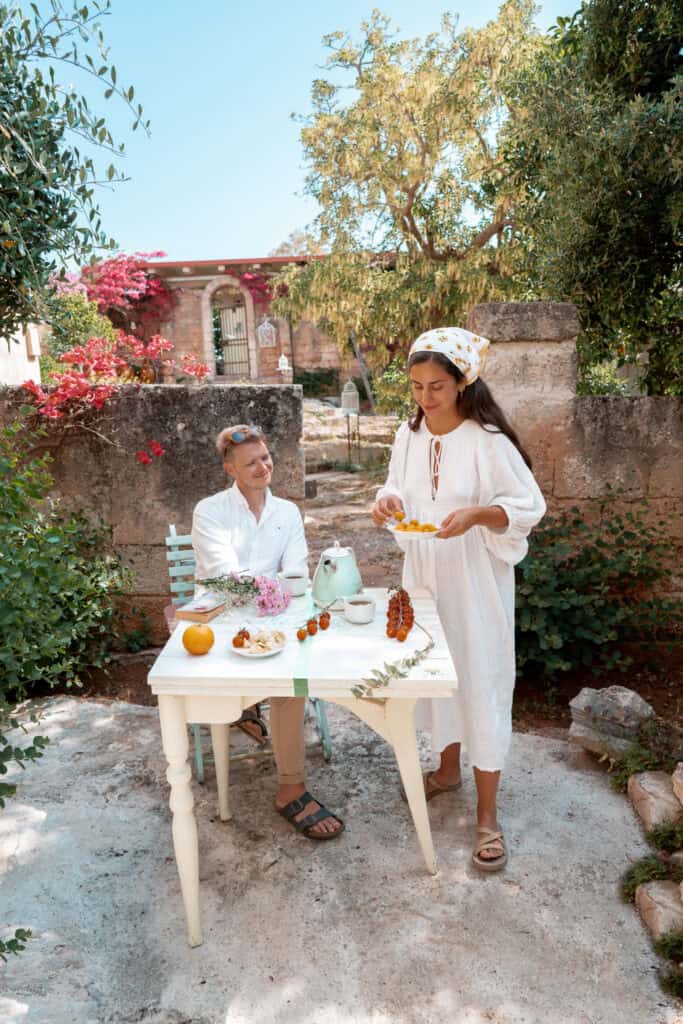 For the adventurous, bicycles were available for rent to explore the surrounding vineyards and countryside.
Read about Puglia's Hidden Gems, Top 5 Locations here
Vegan Dining and Sustainability
As ethical travelers, we were thrilled to find vegan options and eco-conscious practices integrated seamlessly into our stay.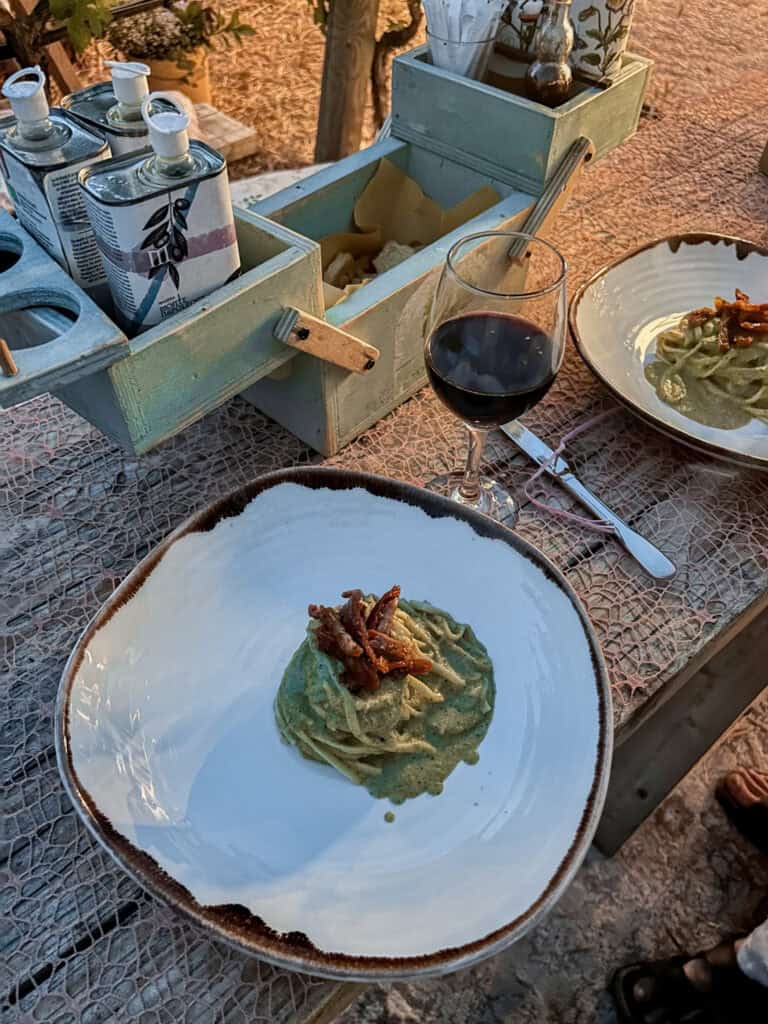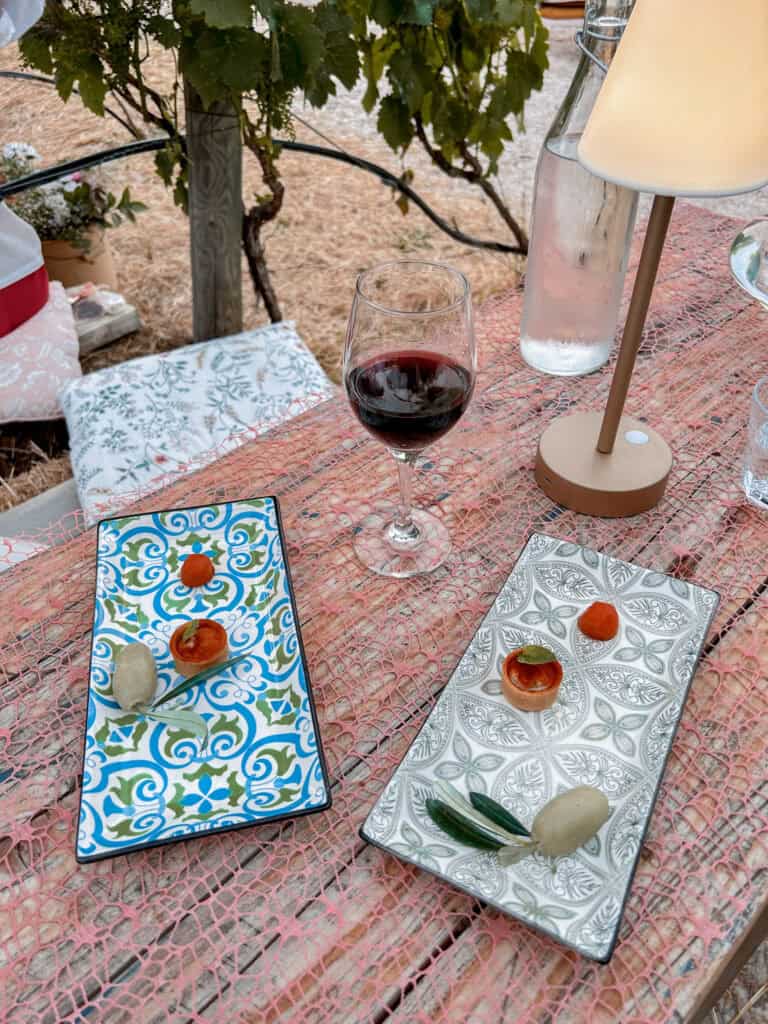 Our 7-course vegan meal was a culinary journey that included delights like camouflaged olive, local cucumber osmosis, and a lemon parfait. It was an indulgence by the vineyard, made even more magical by the setting sun.
This is part as the wine experience in their vineyards
Our Bedroom
The bedroom
It was a cozy retreat with a charming little patio, perfect for savoring local produce and, of course, another complimentary bottle of wine.
Inside our little house we had a livingroom with a complimentary bottle of wine and our bedroom next to it.
Read Our Cinque Terre Itinerary Here
The thoughtful design and attention to detail throughout the Masseria ensured our utmost comfort.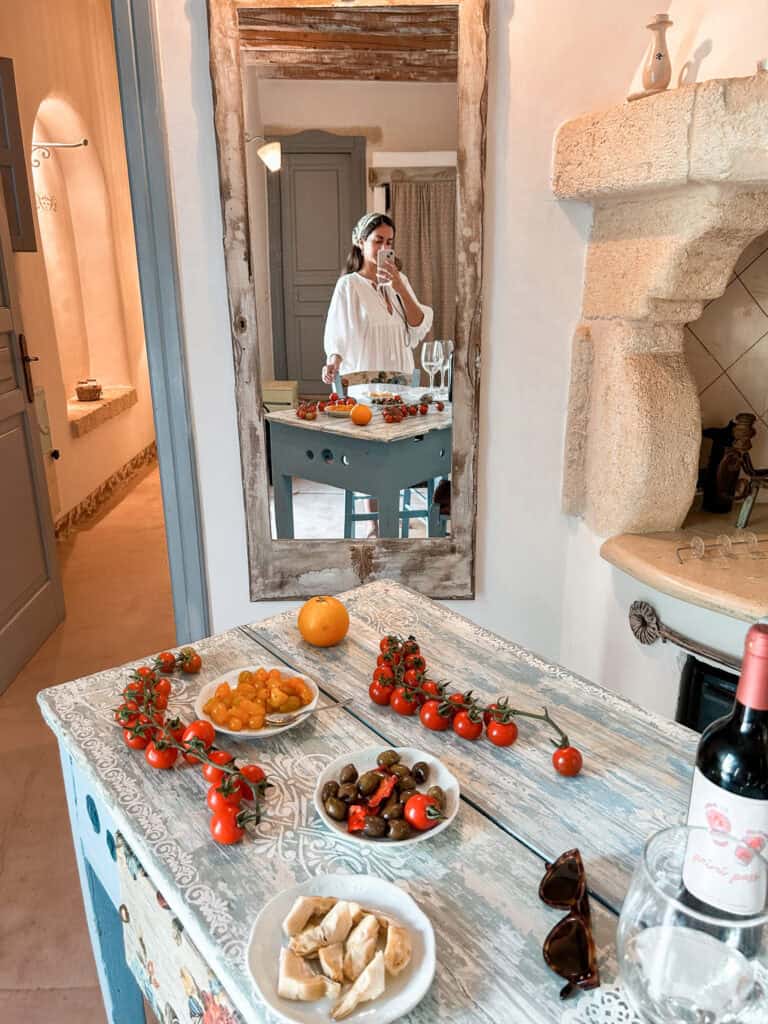 The Patio
Our room had a private patio with sunbeds, a cave and a terrace to enjoy a snack while watching the flowers and trees.
There are different rooms at Masseria Montenapoleone, and each one is very unique.
Ours was located behind the orange tree garden.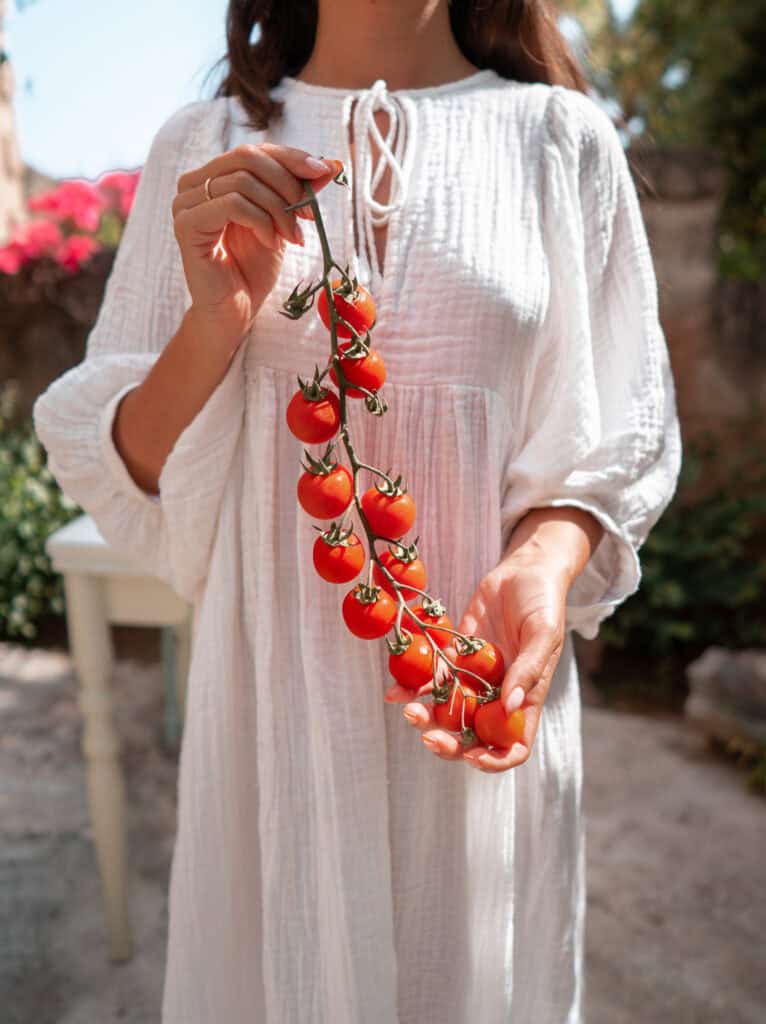 Every morning we enjoyed a lovely breakfast at the main house.
They were so kind to prepare us a vegan breakfast just for us, surrounded by beautiful jasmine flowers.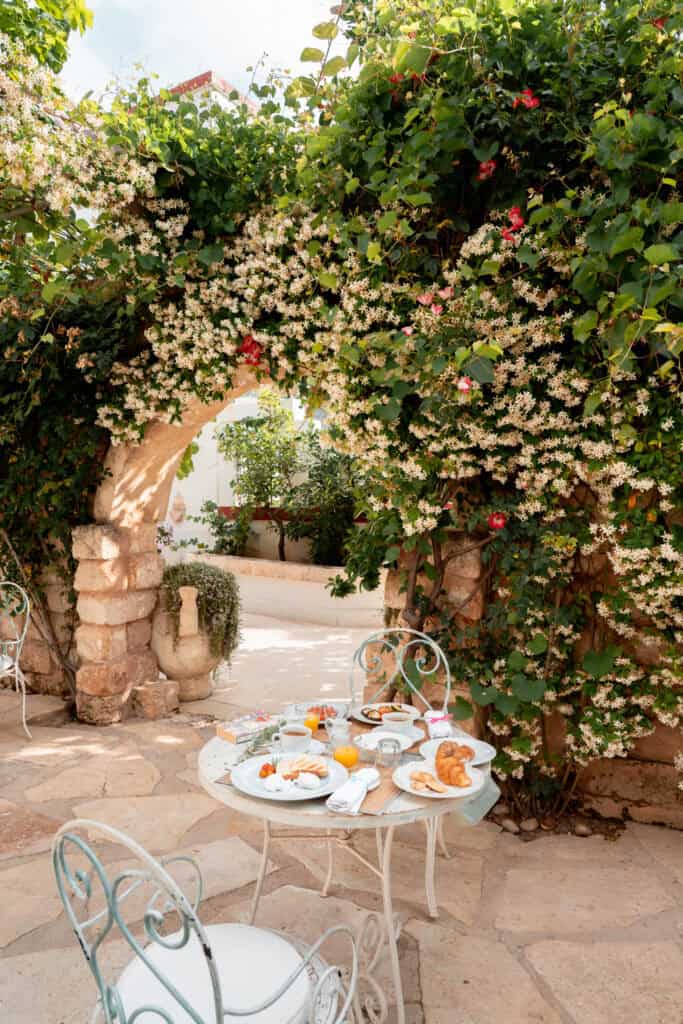 We loved the location so much, it felt so quite and perfect.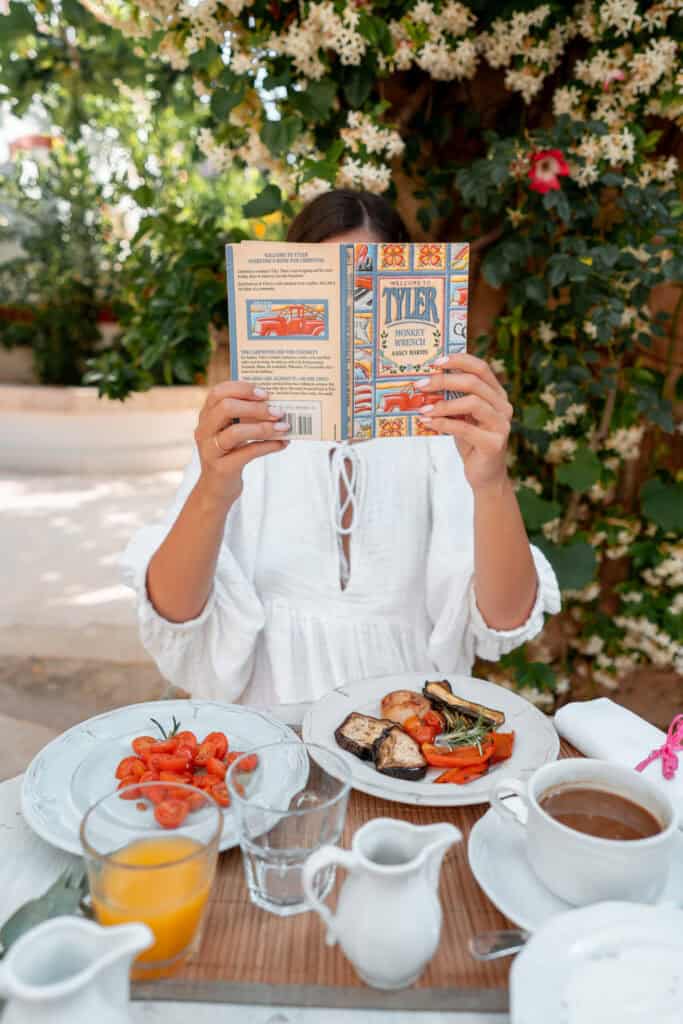 Private Vineyards at the Masseria
During the day you can explore Masseria Montenapoleone private Vineyards where they prepare their local wine
Our Final Thoughts
Masseria Montenapoleone left an indelible mark on us. Its commitment to sustainability, historical allure, and the sheer beauty of its surroundings make it an ideal destination for a romantic getaway.
We would definitely recommend to stay at this Masseria and hopefully we will come back in the furute 
Plan Your Trip to Puglia, With our full Travel Guide here
We left with hearts full of memories and a longing to return to this enchanting haven in Puglia.
Read our article about Puglia's Hidden Gem, 5 Top Locations You Cannot Miss