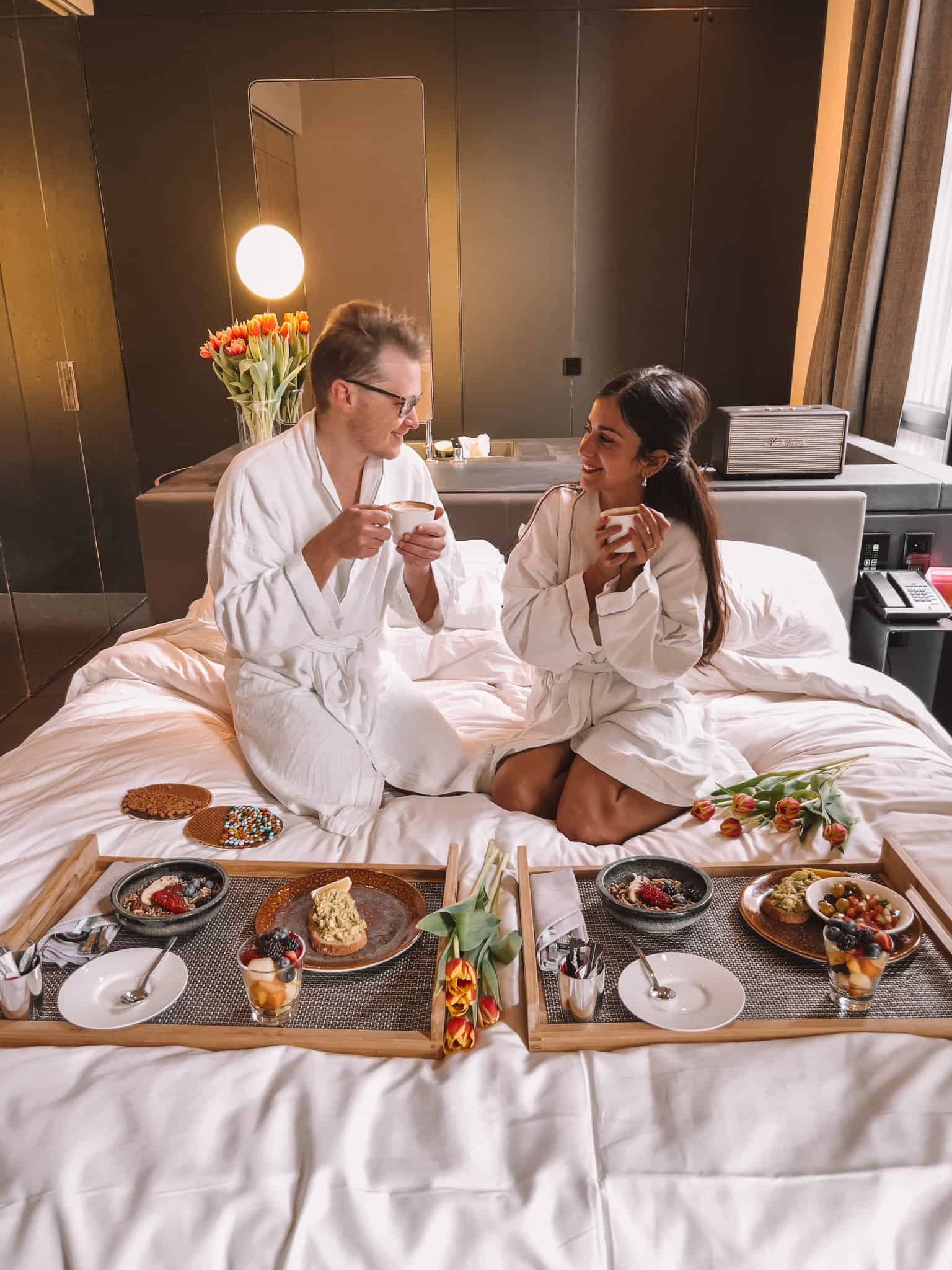 Our stay at W Amsterdam – Best Hotel For Couples
Hello everyone! Welcome once again to our Boho & Salty blog. Today we will be sharing with you our lovely stay at W Amsterdam during our visit to the city.
We were invited to spend the weekend here and get to know every corner of it. And we need to admit we were impressed by it! Sometimes finding a romantic hotel in a big city could be difficult, so keep reading to find more tips about it or even if you just want to visit when you are in Amsterdam
W Lounge
The hotel is divided in 2 buildings, the main one is where you will find the Lounge and the wet deck.
W Amsterdam has a beautiful rooftop that anyone can visit for coffee or cocktails, no need to stay here.
Probably one of the best views of the city to watch sunset and enjoy a cocktail. Chris and I had the best ones we've ever tried in a long time.
This hotel is also famous for its rooftop pool, unfortunately during our visit it was closed due to technical problems so we were unable to visit it. It's perfect for summer but also during winter as it's warm!
In Room Breakfast
Our first day we ordered in room breakfast as we wanted to enjoy the full experience and the bed was so comfortable we didn't want to get out!
You order the menu through the menu in the morning and 30 minutes later it was being delivered to our room!
We got the healthy vegan breakfast options that included avocado toast, fruit salad, veggie salad, coffee and a delicious açai bowl that took us back to the tropics with every bite.
AWAY Spa
It doesn't matter if you come as a romantic get away or for work. You will need to pay a visit to this beautiful spa and relax. It has numerous awards for the best spa. We were surprised for how relaxing and clean it was. Everything was black and dark colours to make you feel relaxed all time. There are different beds to relax after the sauna or the pool.
Every guest can enjoy a complimentary 2 hours at the spa. They also have a treatment room that can book in advanced.
The Hotel
Mixing traditional architectural elements with cutting-edge design and a prime location near Dam Square, W Amsterdam is probably the best located hotel in town. Located steps away from the best museums and attractions.
It's our second time we stay at W Hotels and every time they surprise as, each design and corner is unique.
Inside the Bank building you will find the Duchess, which has been awarded with one star in 'Le Guide the Michelin', if you want to dine here make sure to make a reservation in advanced.
Loved our stay at W Amsterdam? Read our stay at W Koh Samui, Thailand here
Bicycle Tour
W Amsterdam can also provide bicycles for a tour around the city. First time we visited Amsterdam we were scared to rent one as we thought it would be a bit dangerous. For our surprise we really enjoyed cycling along the canals and its beautiful parks. As it wasn't rush hour and during the week it wasn't as busy as a summer day.
We visited all the parks, enjoy the sun and finally visited a famous windmill right outside the center that has been restored into a beer bar that can't miss if you ever come here
Best Time To Visit
Spring and the end of summer are the best months to visit as it's warm but not as busy as July and August.
There are so many things to do in this city, from the canals, renting a boat, cycling around, visiting a museum or visiting the flower fields!