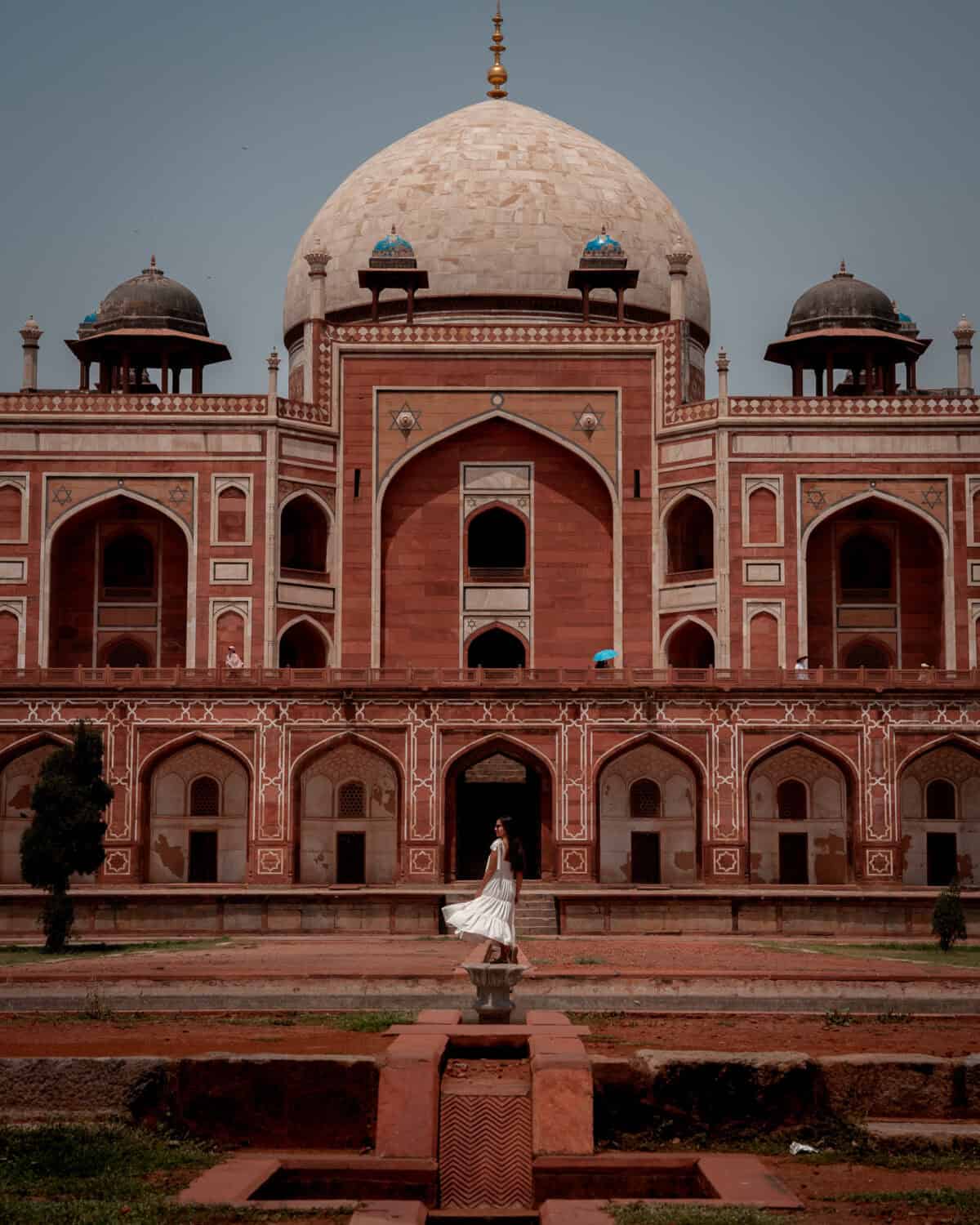 Delhi, India: 2 Day Itinerary & Tips
Our journey around India started in Delhi.
Full of vibrant experiences, unveiling the city's historical grandeur and cultural tapestry. Delhi, a city where ancient history meets modernity, will surprise you and you will want to come back for free.
Here are a list of our favourite places to visit during your 48 hour in Delhi on your way to other cities in India;
Jaipur, Agra or Kerala.
You will also find Where to eat, where to stay & how to move around
1.Humayun's Tomb
Immerse yourself in the grandeur of Humayun's Tomb, another UNESCO World Heritage site.
If you don't have enough time, we would definitely visit this location first.
The symmetrical gardens and majestic tomb provide an ideal setting for history enthusiasts and photography enthusiasts alike.
Tip: Hire a local guide to unravel the tales embedded in every corner.
2. Lodhi Gardens
Embrace tranquility at Lodhi Gardens, an oasis of greenery and historical relics.
Wander through the lush landscapes, discovering ancient tombs that echo tales of bygone eras.
Tip: If you have enough time bring a picnic basket and enjoy
3. Agrasen Ki Baoli:
Dive into the enigmatic ambiance of Agrasen Ki Baoli, an ancient stepwell tucked away in the heart of Delhi.
Unfortunately, we didn't have enough time to visit this location but really want to go on our next visit.
The Best 15 Places to Visit in Jaipur, India
4.Qutub Minar
Commence your exploration at Qutub Minar, a UNESCO World Heritage site, standing tall as a testament to Delhi's rich history. Visit early in the morning to avoid crowds.
We would also skip it if you do not have enough time.
Tip: Grab a coffee at the nearby cafes for a refreshing start.
5. Chandni Chowk
Step into the bustling streets of Chandni Chowk, Delhi's oldest market, where history and commerce collide. Explore the vibrant bazaars, sample local street food, and soak in the chaotic charm that defines Old Delhi.
Tip: Indulge in a traditional meal at Karim's, a culinary institution.
6. India Gate and Rajpath
As the sun sets, head to India Gate and the adjoining Rajpath. The illuminated arch and the expansive boulevard provide a picturesque backdrop for an evening stroll.
The Best 15 Places to Visit in Jaipur, India
7. Lotus Temple
Begin your second day with a visit to the Lotus Temple, an architectural marvel and a sanctuary of tranquility. 
Tip: Visit during sunrise for a peaceful and crowd-free experience.
8. Hauz Khas Village
Explore the artistic hub of Hauz Khas Village, where contemporary art, eclectic boutiques, and trendy cafes converge.
Spend the afternoon wandering through narrow lanes adorned with vibrant graffiti and discovering unique treasures.
Read about The Best Photo Locations in Jaipur
9. Dilli Haat
Experience the diverse crafts and cuisines of India at Dilli Haat.
This open-air market showcases traditional handicrafts, textiles, and a variety of regional delicacies.
10. Akshardham Temple
Conclude your Delhi sojourn with a visit to Akshardham Temple, a modern architectural marvel.
Where to Eat Vegan in Delhi?
Navigating Delhi's culinary landscape as a vegan can be delightful with these options:
Very important if you are VEGAN: In North India most vegetarian meals are cooked with gee (Type of dairy, even the rice), make sure to say NO GEE, butter or any dairy products.
Find a list of vegan friendly places in Jaipur here
Where to Stay?
Opt for accommodations that blend comfort and culture:
Blooms: This is where we stayed. We highly recommend it as it was very clean and modern with working AC. Although it was a bit expensive.
If you are heading to Jaipur after Delhi, read our complete guide about The Best 15 Places to Visit in Jaipur
How To Move Around?
We recommend to book taxis online (Uber) as it will be the easiest and safest way to move around. 
Each way to a location will cost you around 3-4$
Embark on this 2-day journey through Delhi, India, unraveling its hidden gems and savoring the diverse flavors that make it a city like no other.