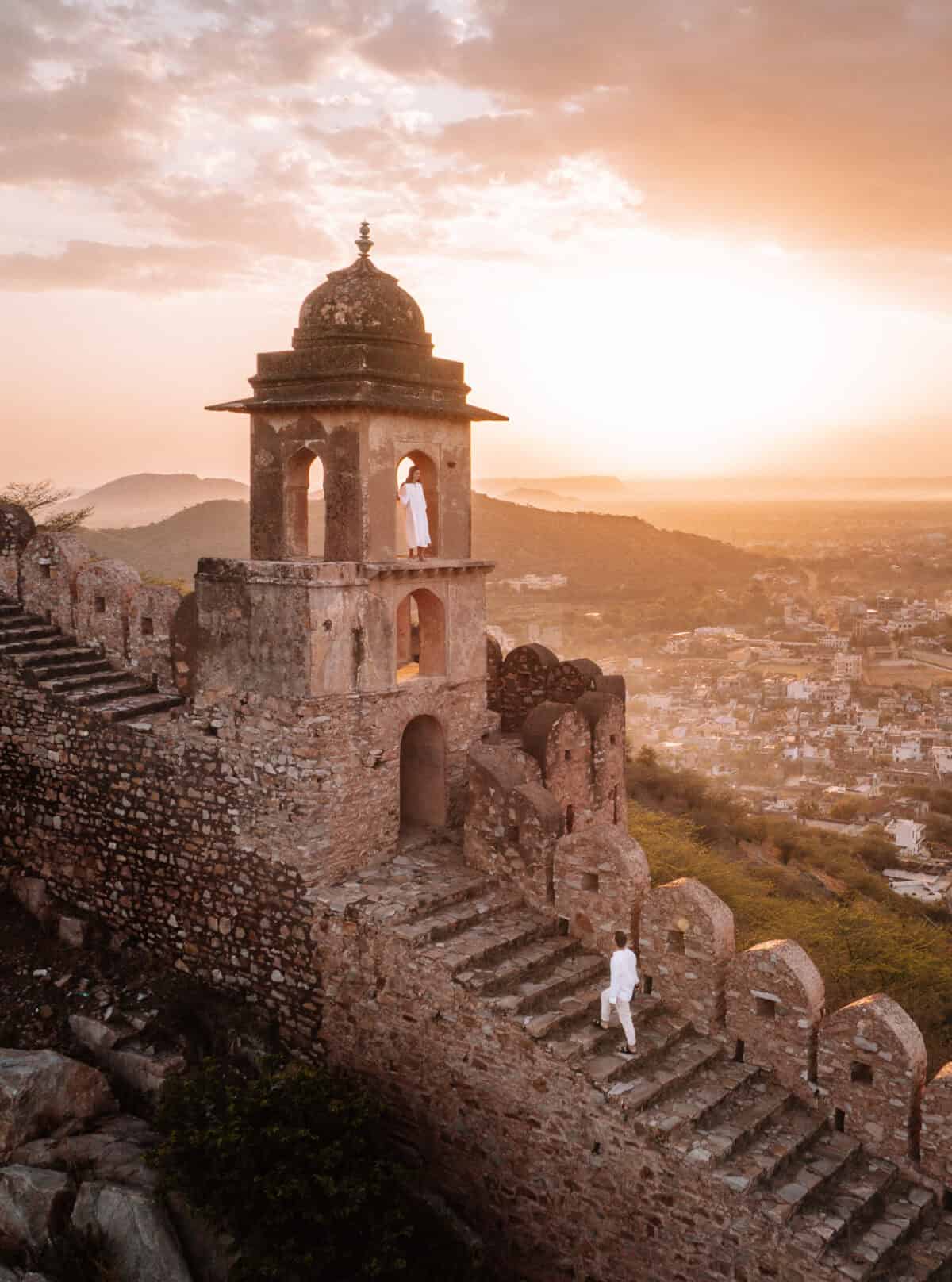 Jaipur's Hidden Gems: 15 Unique Locations
We visited Jaipur, India during May 2023 and discovered so many hidden gems that made us fall in love with this country.
Jaipur, known for its magnificent palaces and bustling markets, is a city that exudes royal charm and cultural richness.
 Whether you're planning a weekend getaway or an extended escape, these 15 offbeat locations in the Pink City will add a touch of magic to your trip.
We will be sharing our 15 favourite locations as well as where to eat vegan & where to stay in Jaipur, India.
Check our guides for Delhi, Agra or Kerala
1. Amer Fort
Amer Fort, perched on a hill, is a must-visit during your trip.
Arrive early in the morning to beat the crowds and capture the fort's enchanting beauty.
The Sheesh Mahal, with its intricate mirror work, is a perfect spot for a romantic photo.
2.Step Well
Explore the Panna Meena Ka Kund, an architectural marvel with symmetrical steps and stunning geometric designs.
It's a tranquil place to relax and enjoy the view.
Tip: Unfortunately since 2021 you cannot access the stairs unless you obtain a permitted from the local government and pay 60-100$ taxes depending on your equipment.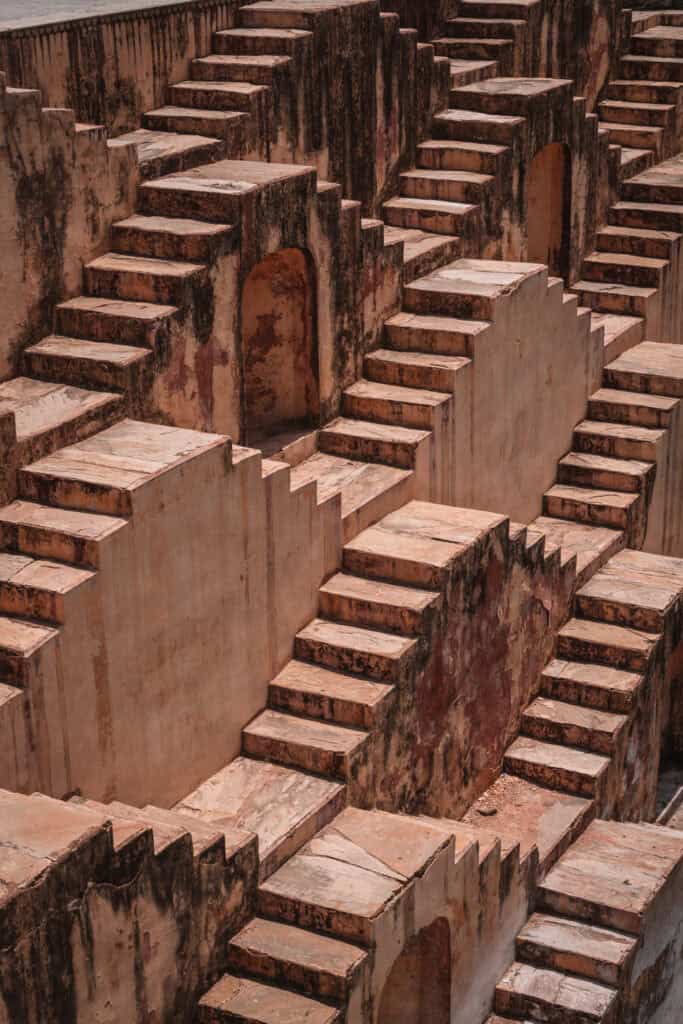 3.Jagat Shiromani Mandir
This serene temple is tucked away near Amer Fort.
Its intricate marble carvings and peaceful atmosphere make it a hidden gem away from tourists.
4.Hawa Mahal
While Hawa Mahal isn't exactly hidden, visiting it during the early morning hours will help you avoid all the tour buses.
Capture the soft sunlight as it filters through the intricate jharokhas (windows).
Tip: We visited the Cafe in front of Hawa Mahal to enjoy these beautiful views
5.Gaitore
This royal cremation ground is a serene spot to visit. The cenotaphs, set amidst a peaceful garden, offer a unique photographic backdrop.
This place is really big and not known by many, so we recommend to spend at least 2 hours here exploring every corner
Also visiting Delhi? Read our   2 Day itinerary here
6.Patrika Gate
Did you know it is the entrance to a public park?
Patrika Gate, at Jawahar Circle Garden, is a riot of colors and intricate designs. It's an excellent location for capturing vibrant, colourful photos.
Tip: We recommend arriving before 8-8:30am as they shot many wedding videos here.
7.City Palace, Jaipur
City Palace, although well-known, has quieter sections and courtyards that offer privacy. Explore these areas for intimate moments and beautiful photos.
We recommend doing a tour with a local guide (We booked it inside the palace) as you would learn so much more
8.Jaipur Wall
Probably the most hidden locations of all!
Jaipur is surrounded by beautiful stone walls but unfortunately we cannot share this location as it's very hidden but Puneet (Our photographer) can take you there if you ask him to!
Visit during the golden hour or sunrise for the best lighting.
9.Monkey Temple 
Also known as Galta Ji, this temple complex is a unique experience. Interact with the resident monkeys and enjoy stunning views of the city.
Located 20-25 minutes away by car from the busy Jaipur.
10.Maharaniyo Ki Chatri
Located in the heart of the city, this hidden gem features stunning architecture and offers a quiet space for couples where you can relax.
11.Nahargardh
Very popular among locals to watch sunset during the weekends.
The location is breathtaking as it allows you enjoy a panoramic view of Jaipur.
12. Albert Hall Museum
If you have extra time, you can visit  this museum during the late afternoon when the sun casts a warm glow on the building.
The surrounding Ram Niwas Garden is perfect for a leisurely stroll.
13.Flower Market
Markets in Jaipur start very early, especially the flower market so they can stay fresh.
Start your day before 8-9 am at the flower market near Govind Dev Ji Temple. The vibrant colors and fragrant blooms provide a unique photo opportunity.
Also, next to the flower market you will also find the vegetable market till 10-11 am.
14.Street Market
Stroll through the local markets to experience the city's vibrant street life.
Capture the essence of Jaipur's culture and haggle for some memorable souvenirs.
15.Jantar Mantar
If you have extra time visit Jantar Mantar in Jaipur.
Jaipur's astronomical observatory is a UNESCO World Heritage site. Explore the unique structures and take photos against a backdrop of historical significance.
Tip: Skip it if you don't have enough time.
Getting Around Jaipur:
To explore these hidden gems, rent a car or hire a local guide for a personalized experience. Auto-rickshaws and taxis are readily available within the city for shorter journeys.
We actually spent 4 days exploring Jaipur with Puneet.
We highly recommend booking a photography tour with him as he will take you to the most amazing locations by car and he is a really good photographer.
We flew from Delhi to Jaipur as it is the easiest and fastest way to get here.
Where to Eat Vegan Food in Jaipur?
Most restaurants are vegetarian but if you are vegan it is not as easy as you may think. 
In North India, most meals contain yogurt or butter (Gee)
Here's a list of restaurants that are vegan or vegan friendly:
Anokhi Café: Offers an array of organic vegan dishes, including a delectable vegan thali.

The Forresta Kitchen & Bar: An upscale restaurant with a dedicated vegan menu featuring Rajasthani and North Indian delights.

Jaipur Adda: A rooftop gem with vegan options, perfect for enjoying city views and a variety of vegan dishes.

Tapri Central: A trendy tea café with clearly marked vegan choices, including teas, snacks, and light meals.

Peacock Rooftop Restaurant: For a romantic dinner with vegan flavors and splendid views near the City Palace.

Rawat Mishtan Bhandar: Satisfy your sweet tooth with vegan samosas, kachoris, jalebi, and imarti.

Govind Dev Ji Temple Food Stalls: Find vegan street food like chana chaat and kachori right outside the temple.

The Yellow House: Offers vegan breakfast and brunch options, including avocado toast and smoothie bowls.

Alsisar Haveli: Enjoy a fine-dining vegan experience with Rajasthani and Indian cuisine.
Where To Stay ?
Ratnawali Heritage Hotel We actually stayed at this hotel which is 100% vegetarian hotel and they also accommodate vegan options. we also have most dinners here and it was delicious. We paid around 20$ a night.

The Oberoi Rajvilas: A luxurious and romantic resort, The Oberoi Rajvilas offers a serene ambiance with beautiful gardens, private pools, and impeccable service.

Samode Haveli: This charming haveli has an old-world charm with its beautiful courtyards, Mughal-inspired design, and intimate atmosphere, making it a perfect spot for a romantic getaway.

The Raj Palace: A heritage hotel, The Raj Palace exudes opulence and romance with its grand architecture, antique decor, and a regal setting.

Sujan Rajmahal Palace: This historic palace hotel offers a blend of luxury and romance, featuring beautifully decorated rooms and personalized services.

28 Kothi: A boutique hotel with a tranquil garden and chic design, 28 Kothi provides an intimate and peaceful atmosphere for couples seeking romance.
Hope you enjoyed our article about Jaipur, India.
Let us know if you have any questions!
We are also adding some photos to this article that we took during our trip.
Our articles from India:
Andrea & Chris