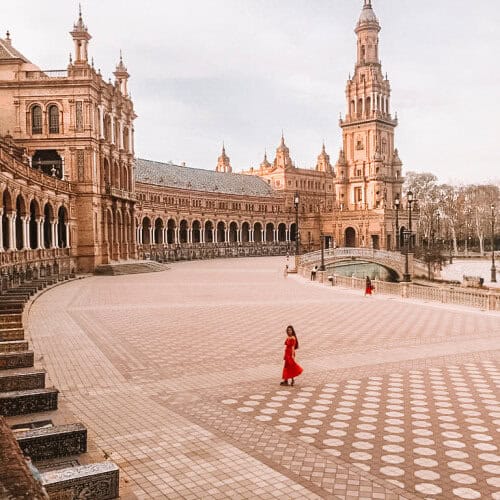 Sevilla Travel Guide: Exploring the Treasures of Andalusia's Vibrant City
After spending some days in the colorful city of Sevilla we are ready to share our Travel Guide.
As soon as you arrive to the city you will find busy streets filled with with orange trees, tapas bars and flamenco shows. A mix of different architectural influences from the Romans, Christians and Muslims. Best time to visit the city is Spring and Autumn in order to avoid the cold winters and hot summers.
(You will find a bullring where they kill poor animals everyday, I am Spanish and we do not support this middle-age tradition that should have ended long time ago, but it is quiet popular in Sevilla. Please do not visit a bull ring, it is cruel and you will be supporting the death of innocent animals. It is not a fun experience)
How to get from the Airport to the City Center
We took a flight to Sevilla as it is the easiest way to get there and you can find them for a very good price. It is a very small airport, as soon as you arrive and go outside you will find a bus stop (every 15-20 min), it costs 4€ each trip and takes around 20-30 min.
You can also grab a taxi which should be around 25€ (Remember to ask before you get in)
If you love traditional and beautiful Spanish villages read about Altea, The Santorini of Spain Travel Guide here
If you want to rent a car, you will also find some options inside the airport.
Where to stay
We decided for this trip to book an Airbnb as we preferred to cook at home as we did not know how easy would be to find vegan options.
You can also find hotels on Booking, they are a little bit more expensive than Airbnbs (70-120€/night). If you prefer cheaper options, Hostels may be a good idea.
Here is a recommendation for romantic hotels in Sevilla
Hotel Alfonso XIII: Iconic luxury with eco-friendly practices.
Casa Romana Hotel Boutique: Charming sustainability in a boutique setting.
EME Catedral Hotel: Rooftop views and responsible tourism.
Hotel Palacio de Villapanés: Restored palace with an eco-focus.
Hotel Mercer Sevilla: Intimate luxury, local partnerships, sustainability.
What to see
Plaza de España
We had seen many photos of this place but we didn't think it would be so beautiful in person. It is impressive from a distance, and when you get closer you can see that everything from the benches to the balconies is covered in intricately painted blue and yellow.
It was built in the 1920s for the Ibero-American Exposition World's Fair.
The square opens at 8 am and closes at 10pm in winter and at midnight in summer. If you want to have the whole square for yourself make sure to be there at 8 am.
We were alone for more than an hour, but even with people the place is huge and feels like you are alone. I'd recommend you to spend a few hours to see everything and walk around the park. You can also rent a little boat for their lake.
Are you visiting Barcelona? Read our full guide here
Metropol Parasol 'The Mushrooms'
It was built in 2005, they host concerts and events in the terrace. Underneath you will find a little market, a bar, an archaeological museum and the entrance to visit the Mushrooms from above and get an incredible view of the city.
It costs only 3€, so it is usually pretty busy, make sure to arrive early to have it for yourselves, or prepare to wait an hour buy your ticket.