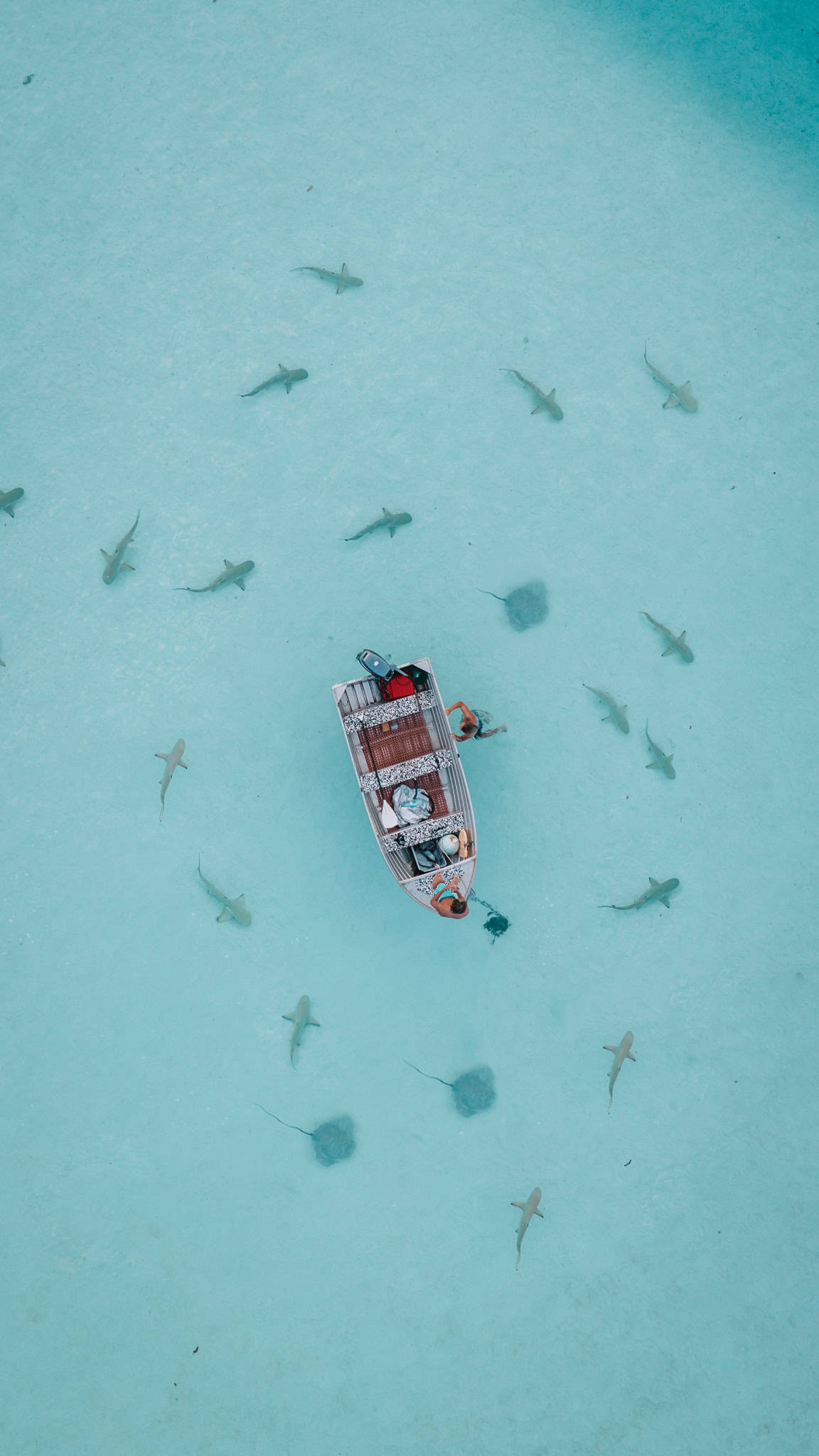 2 Week French Polynesia Itinerary, Everything You Need To Know
Here you will find a detailed 2 Week French Polynesia Itinerary and everything you need to know.
We will talk about the essentials, how to get around and the mandatary islands you need to visit on your first time.
Join us on a virtual voyage as we recount our unforgettable adventures in the enchanting paradise of French Polynesia.
We will talk about the 3 main islands and everything you need to know
If you are doing a layover at San Francisco, check our article about Must Dos in 24 hours
Where is French Polynesia
Located in the heart of the South Pacific, French Polynesia is a captivating archipelago of 118 islands renowned for its turquoise lagoons, overwater bungalows, and vibrant culture.
The journey to this tropical haven begins with a sense of anticipation and wonder.
Getting Here and Best Time to Visit
To reach French Polynesia, international flights land at Faa'a International Airport in Papeete, Tahiti.
The easiest way to get here is from San Francisco (Read about our 24 layover here) or from Los Angeles.
The best time to visit is during the dry season, from May to October, when pleasant weather and fewer rains create ideal conditions for exploration.
Currency and Travel Essentials
The local currency is the CFP Franc (XPF), but major credit cards are widely accepted.
Tip: In some islands there will be no ATM so we advise to get enough cash in advance as most places will not accept cards.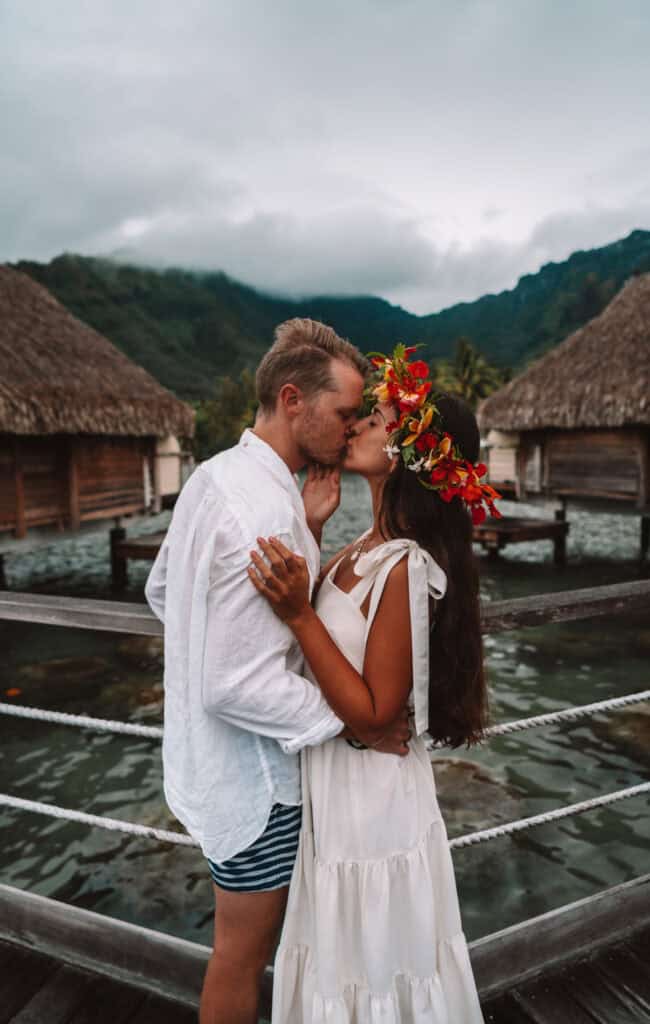 What to bring: Remember to pack lightweight clothing, your snorkel gear, swimwear, coral reef friendly sunscreen, a sun hat, and a universal power adapter to keep you well-prepared for this island escape.
We also brought our snorkel equipment and underwater photography equipment.
You can also rent it at hotels or tourist points.
How To Move Around French Polynesia
It is not as easy as it seems. If you are staying in Tahiti for example, it is very close to Moorea so you can book a ferry for 18$ return.
But if you want to go to Bora Bora or other islands you will need to book a plane, which costs around 200-400$ return for each island
Air Tahiti offers an Island Pass for around 500-800$, which is worth it
2 Week Itinerary – The 3 Islands
Bora Bora – Island of Tranquility
We 5 days here but we would recommend to stay at least 3-4 nights to make the most of it.
It cost us 250$ return flights to get here and we stayed at the amazing Four Seasons Bora Bora where we celebrated our honeymoon.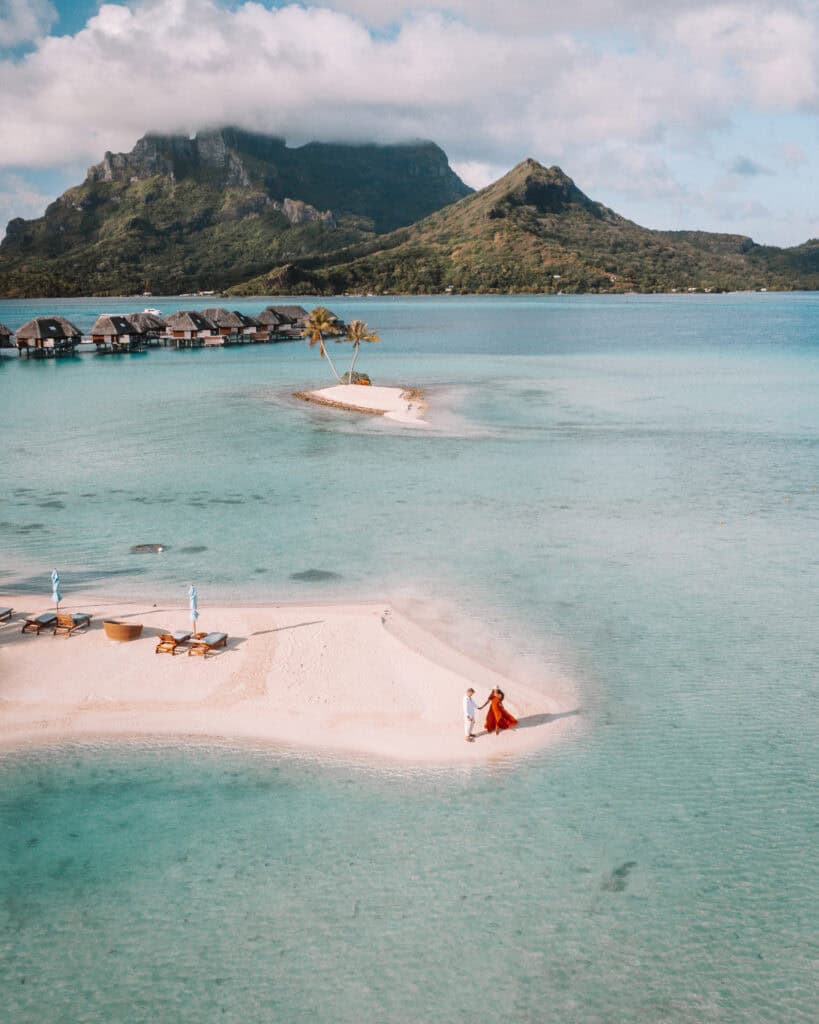 Bora Bora is an island you have to visit, and believe us, if you do not visit Bora Bora, you will regret it for the rest of you life.
This island is famous for honeymooners and couples, which can get a bit expensive, but every penny is worth it.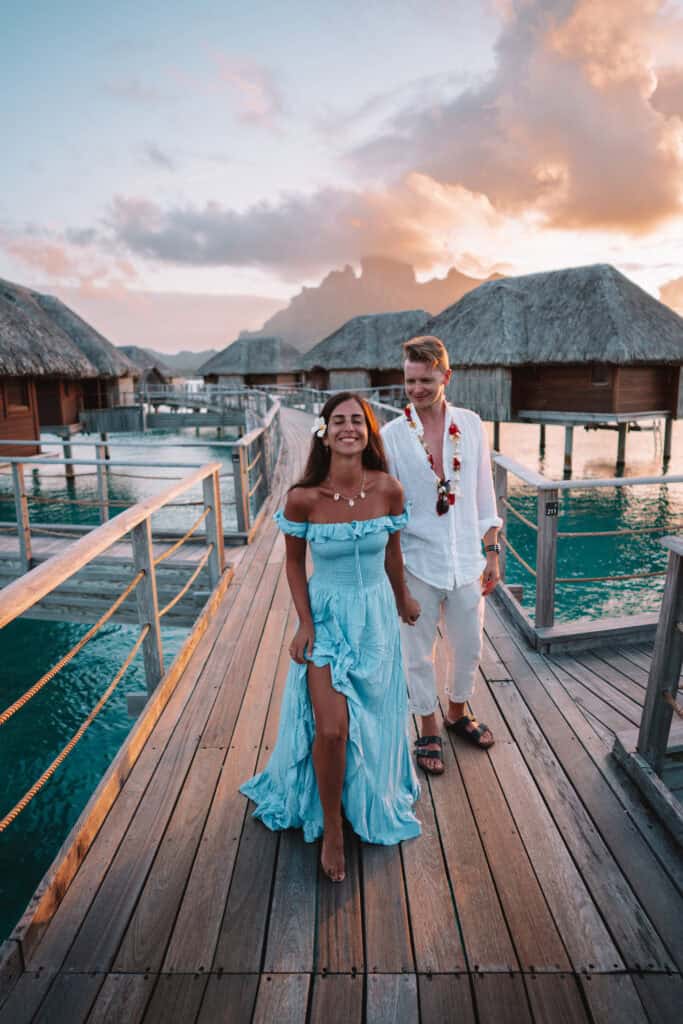 Read our Four Seasons Bora Bora Review here
If you are looking for budget friendly options, you can stay at the main island for 50-100$ a night.
What to do here?
During our visit to Bora Bora our favourite activities where snorkeling at the lagoon where you will see reef sharks, turtles and manta rays as well as thousands of fishes.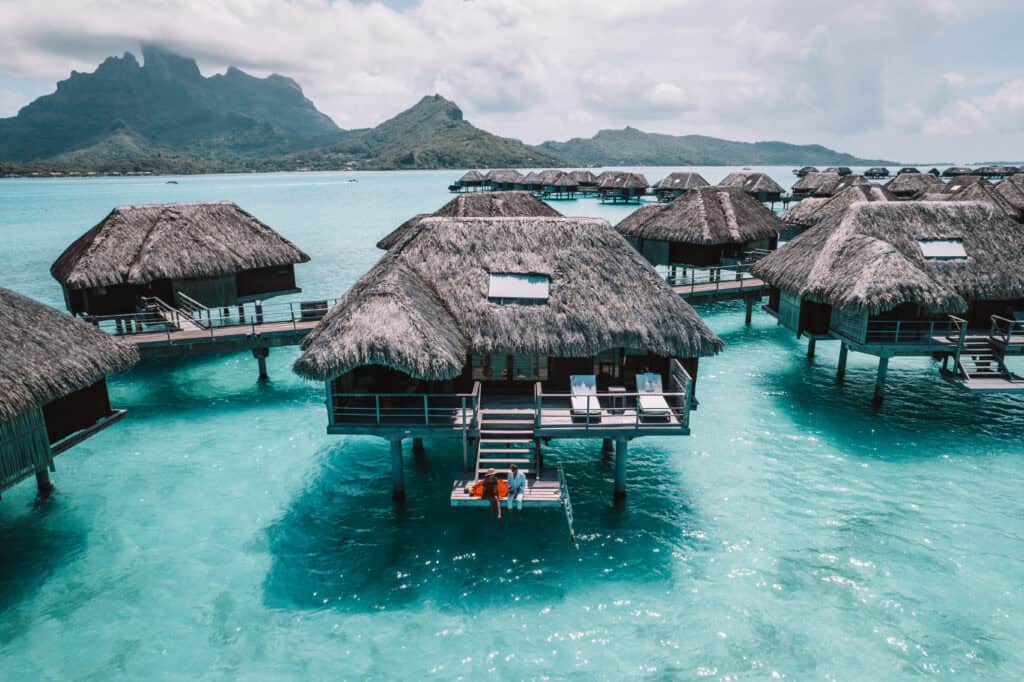 Another fun activity would be to rent Kayaks or Paddle Boarding. We enjoyed at FS Bora Bora as they were all complimentary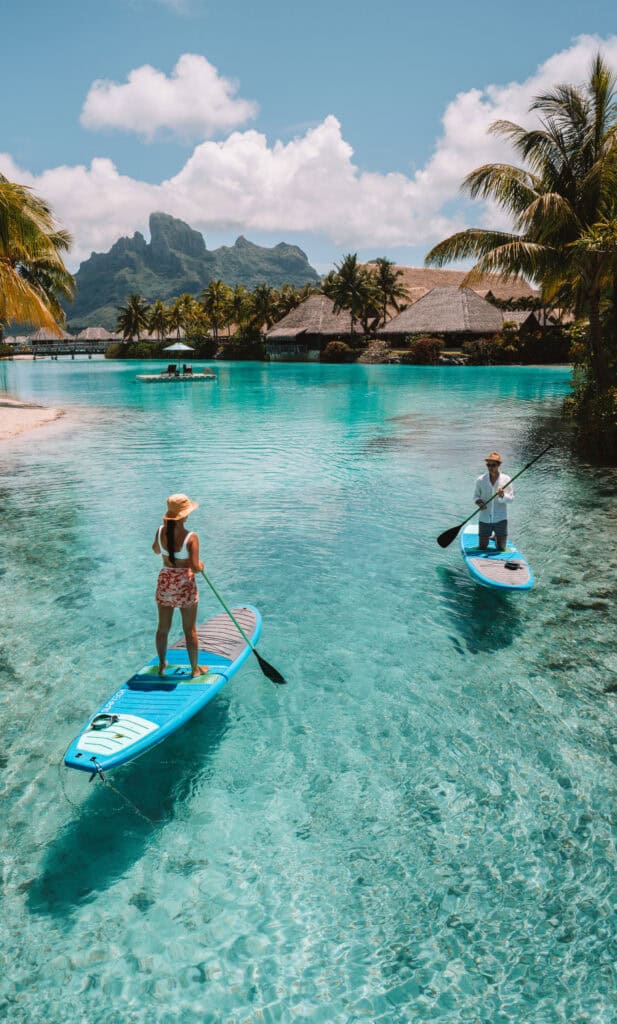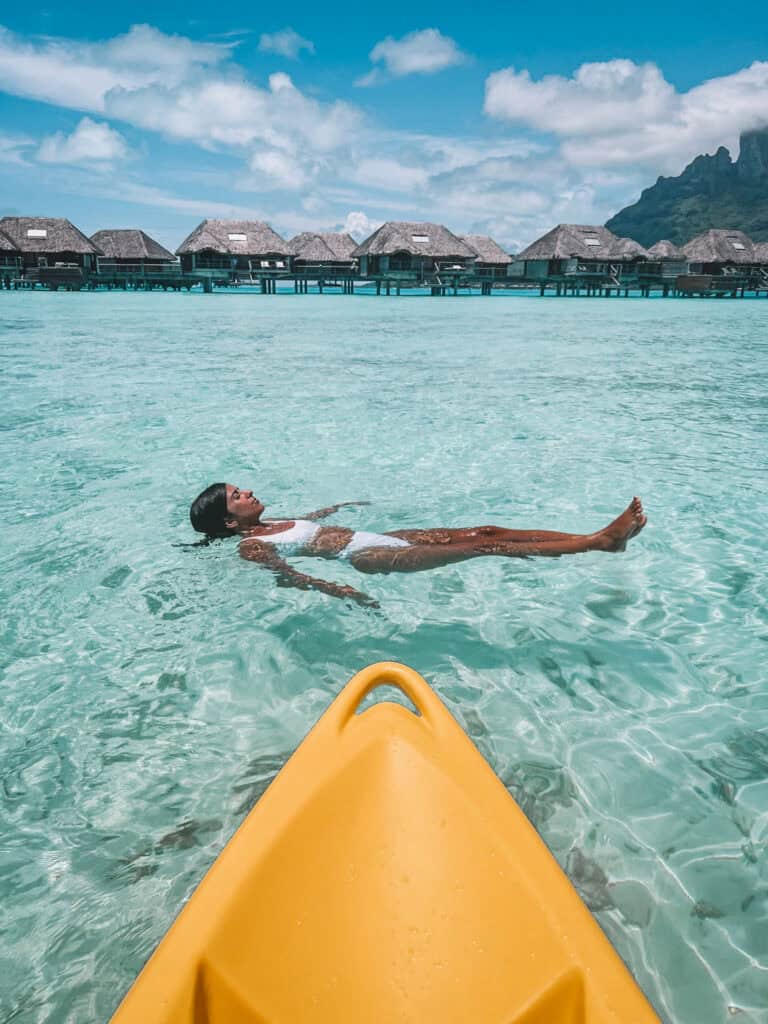 They also offer day boat tours for around 100-150$ per person and hiking treks in the main islands for 50$ and Quad trips. 
If you want to know more about Bora Bora or see all our photos read our article here 
Moorea – Nature's Playground
We spent 1 week here but 4 full days would be enough to discover the whole island.
We just created a Moorea Guide, 16 Things To Do & important Tips
How to get here?
We got the ferry from Tahiti to Moorea which was 45 minutes and cost us 18$ return. The ferry was like a cruise ship, it was really big and comfortable.
What To Do Here
Here is a list of our favourite activities we did during our visit
Belvedere First Lookout
From the main road you will reach this location driving all the way up for 10 minutes.
If you want to come walking it will probably be over 1 hour each way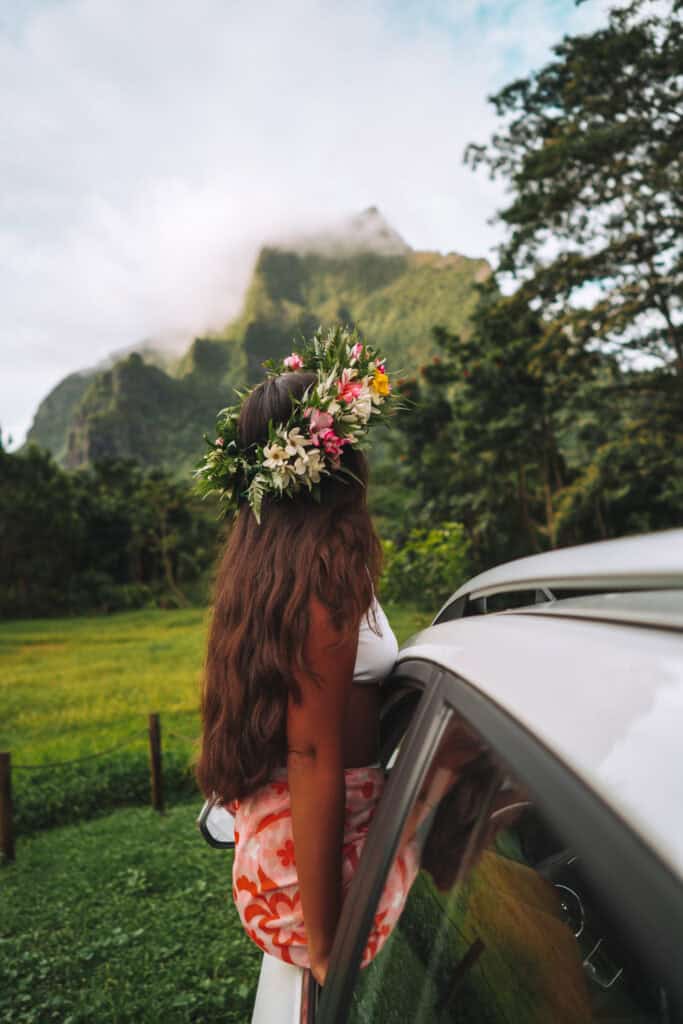 Find out about all these places in our article here
Hike Belvedere Lookout
If you love hiking we would highly recommend this one. It took us 5 hours to complete, including several times that we stopped for photos. There are signs to follow to the top.
We would just advise to wear comfortable shoes and not go up if it's raining as it gets muddy.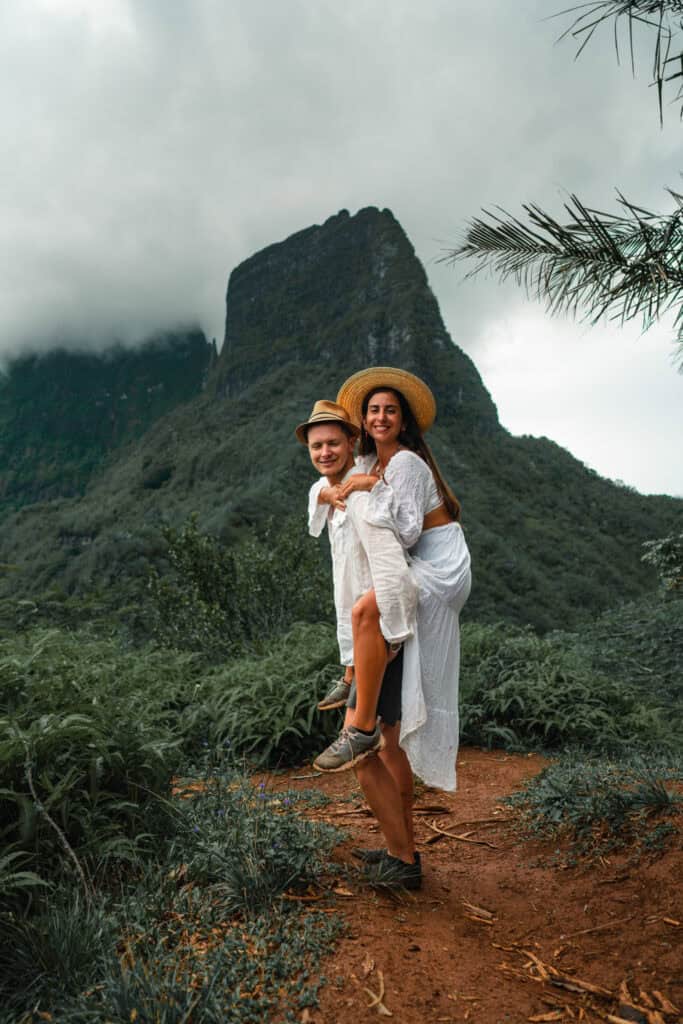 From this vantage point, the captivating landscapes of Moorea, with its turquoise waters and verdant peaks, paint an awe-inspiring masterpiece.
Shark Point
Our favourite part of Moorea, we actually came here 4-5 times during our trip.
To get here you need to reach Hotel Les Tipaniers and walk inside (It is allowed between after breakfast – till sunset)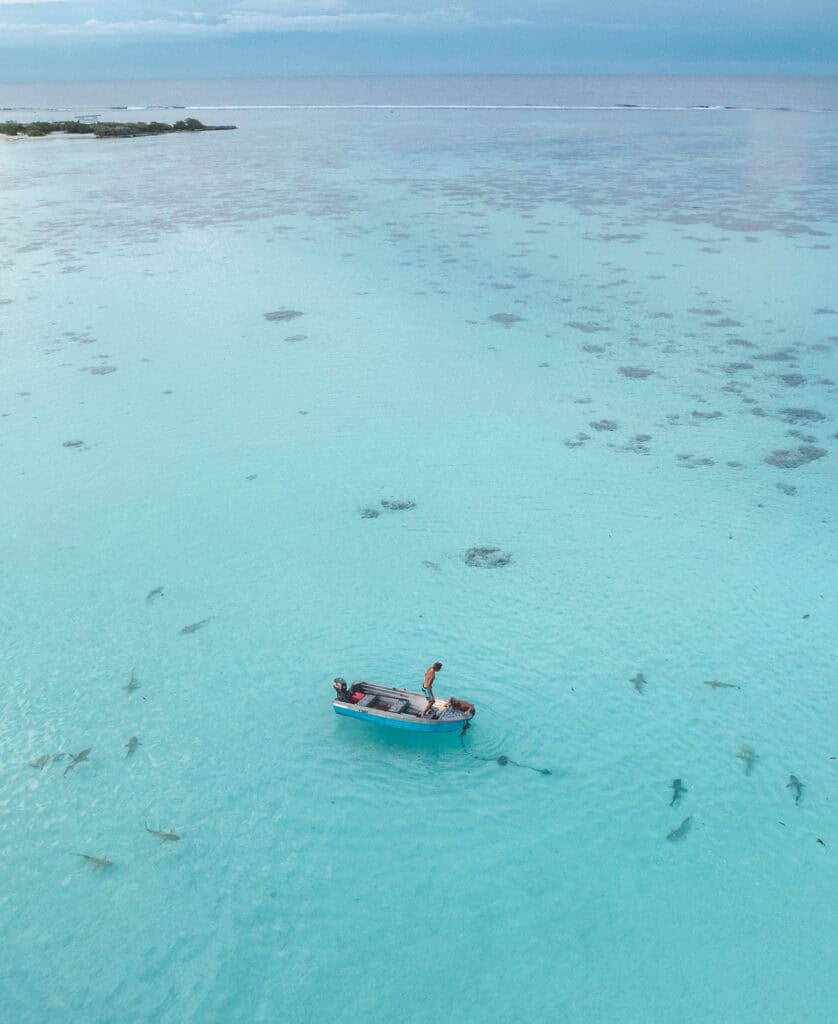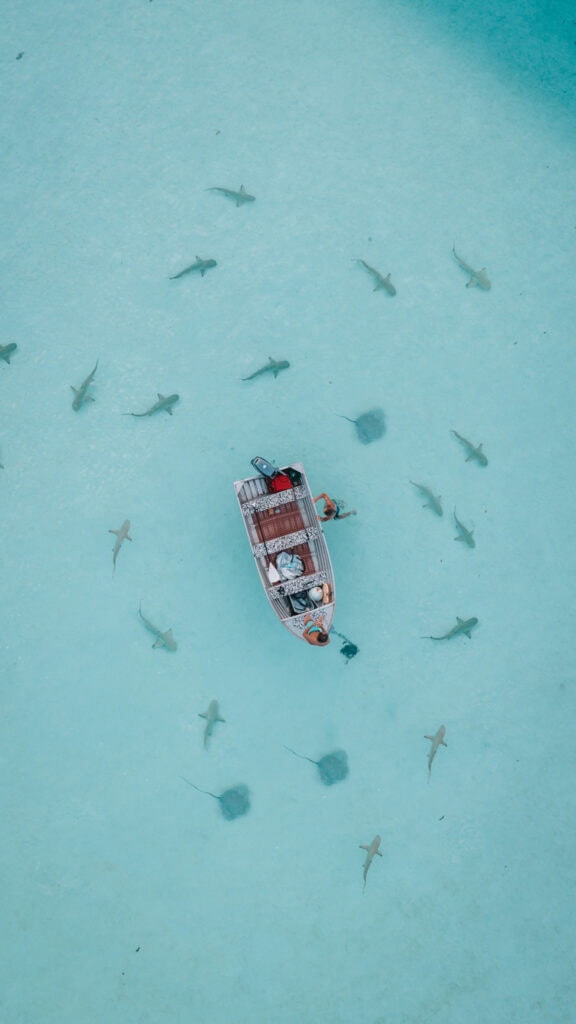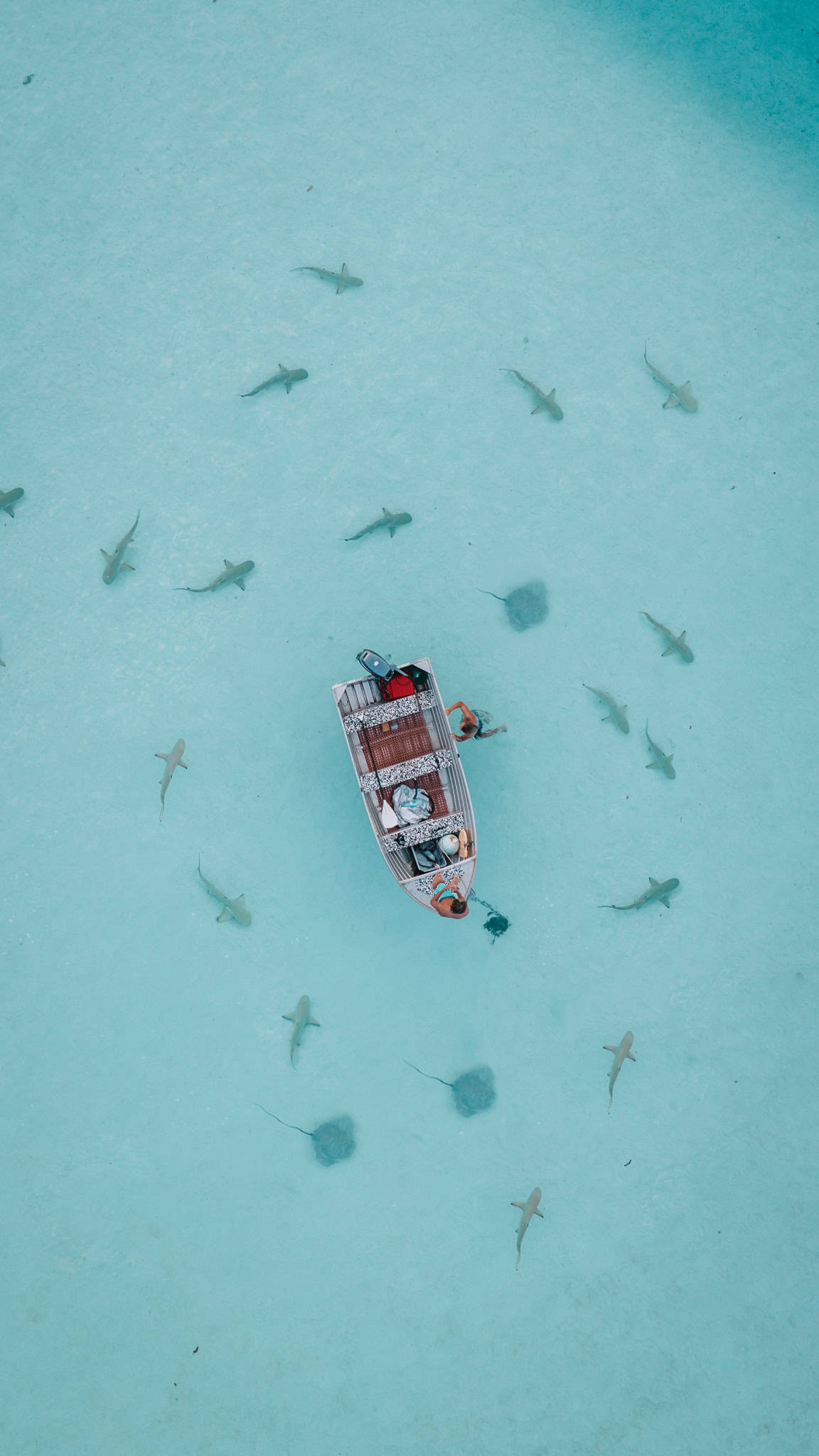 We rented a kayak and for 15-35 minutes (depending on currents and wind) you will reach one of the most amazing places.
Church of Sainte Famille
A lovely church you can visit by the ocean with the impressive mountains in the background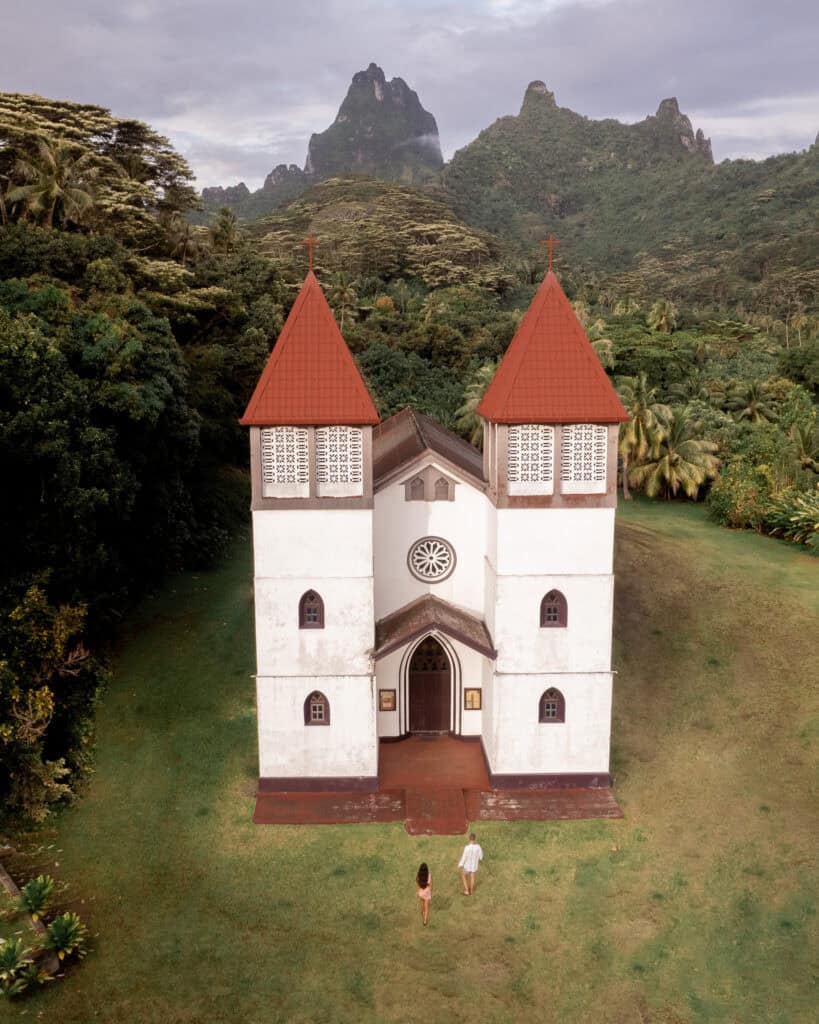 Public Beaches
Moorea is not fully surrounded by a reef or sand beaches, so you will have to stay at a hotel/Resort, we actually stayed at Manava Resort 
But if you search on Google Maps you will find 2 amazing public beaches as well.
Are you planning your Honeymoon in Moorea or perhaps a romantic escape? Read our full guide here
Tahiti – The Heart of French Polynesia
In our honest and personal opinion, we spent too much time in Tahiti.
Tahiti is beautiful and has so many different things to do.
But for us Moorea and Bora Bora were way better. We actually regret spending that many days here instead of another island
We would recommend 2-3 nights in Tahiti, but if you are short in time we would skip it.
What To Do Here?
Embrace Natural Beauty
-Black Sand Beaches
Wander along Tahiti's unique black sand beaches, including the captivating Black Sand Beach that adds a touch of mystery to your tropical escape.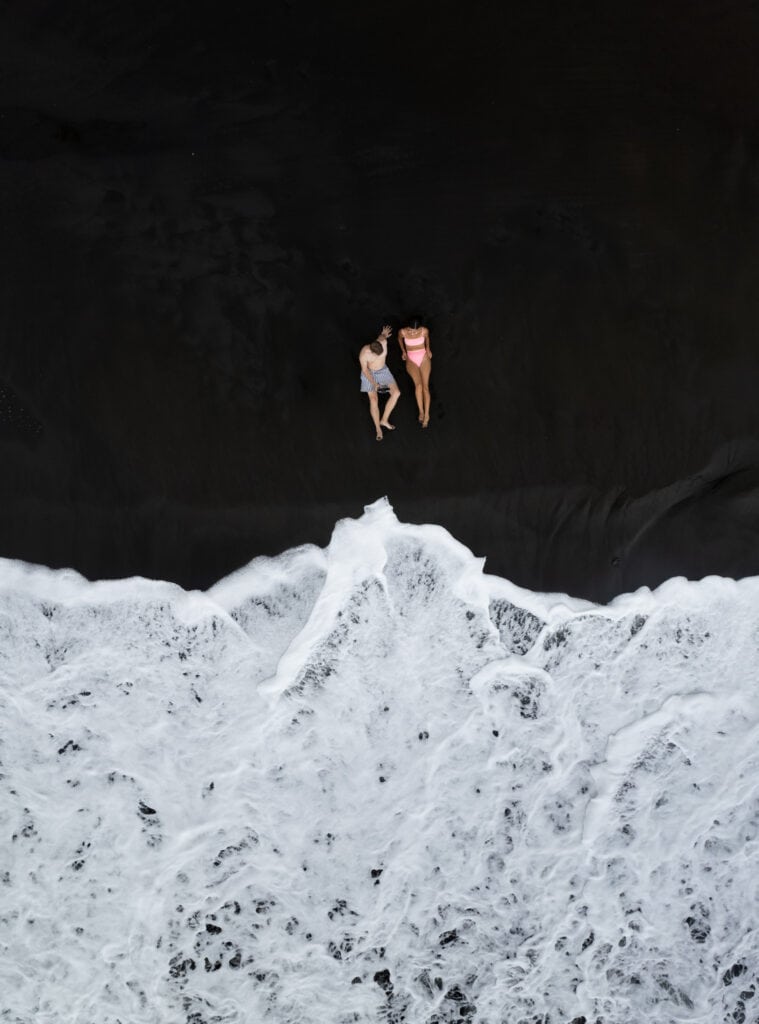 Read our article about The Best Black Beach of Tahiti
-Waterfall Excursions
Embark on a journey to hidden waterfalls, such as the stunning Fautaua Waterfall, where lush greenery frames cascading streams, creating a backdrop of serenity.
Dive into Culture and Traditions
–Museum of Tahiti and Her Islands
 Immerse yourself in Polynesian heritage at this museum, where artifacts, exhibits, and insights bring Tahiti's history and culture to life.
-Tahitian Dance Performances
Witness the beauty of traditional Tahitian dance performances, where graceful movements and vibrant costumes share stories of ancient traditions.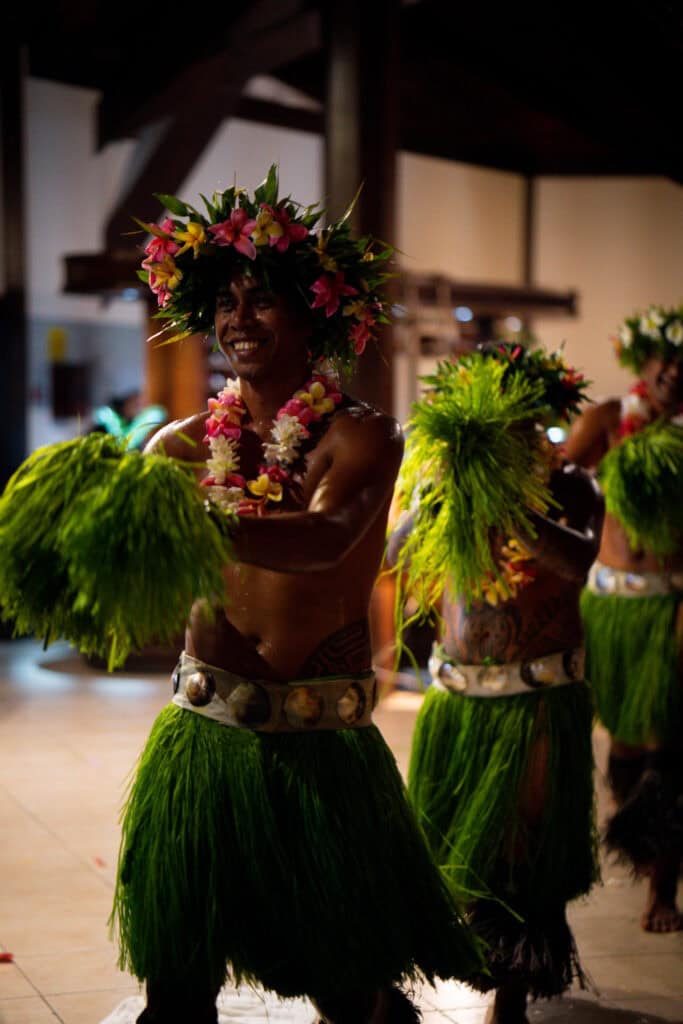 Snorkeling in Lagoon Waters
Dive into the crystal-clear lagoons for a mesmerizing encounter with colorful marine life and vibrant coral reefs.
Hiking in Papenoo Valley
 Embark on a hike through Papenoo Valley's rugged landscapes, discovering lush valleys, river crossings, and panoramic vistas that reward your efforts.
Market Explorations
Stroll through local markets like Papeete Market, where fresh tropical fruits, handicrafts, and Tahitian vanilla tempt your senses.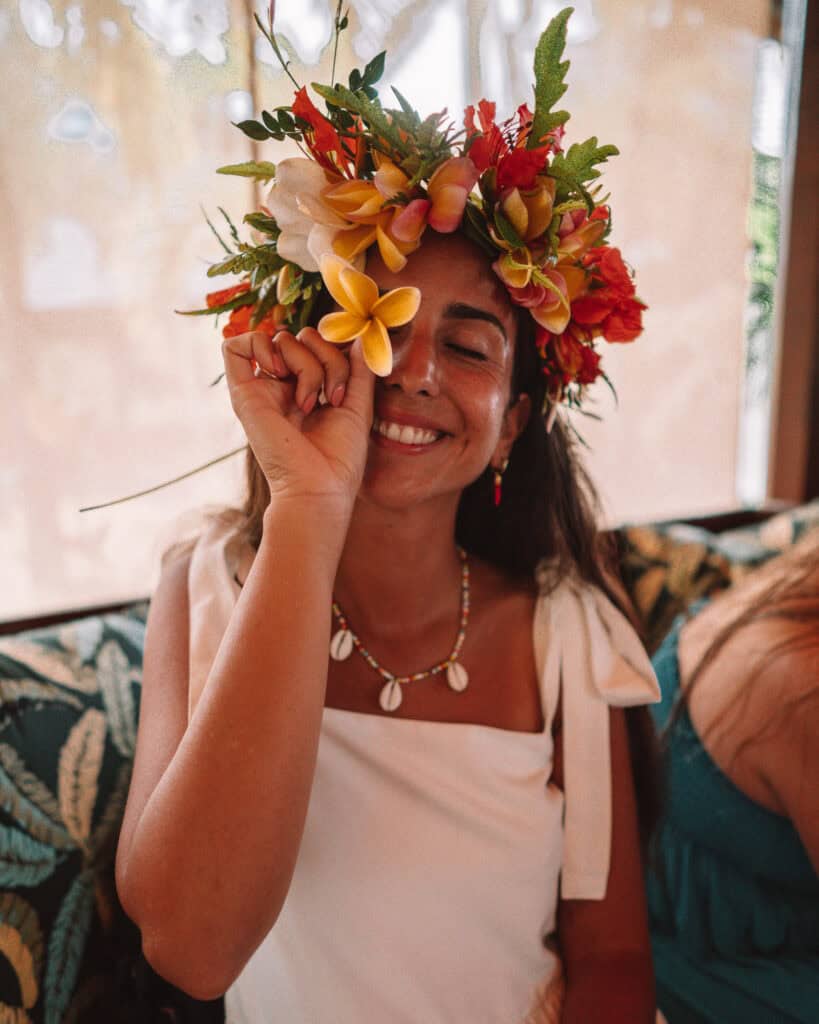 At the local market you will find the Flower Crown market where you can buy your crowns and talk to locals and see how they are made.
Sunset Cruises
Sail into the horizon on a romantic sunset cruise, where the sky's canvas paints a breathtaking masterpiece as you revel in each other's company.
Our Final Thoughts 
French Polynesia is paradise for honeymooners. It offers a tapestry of experiences that combine natural wonders, cultural immersion, and luxurious indulgence.
Whether you're seeking tranquil relaxation or thrilling exploration, this tropical paradise invites you to create unforgettable memories and fall in love with its allure.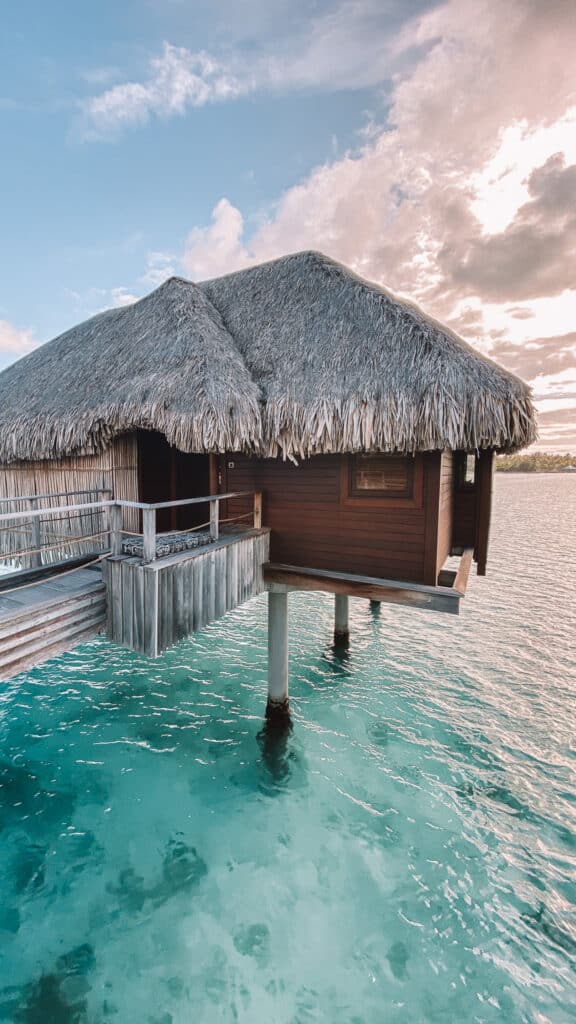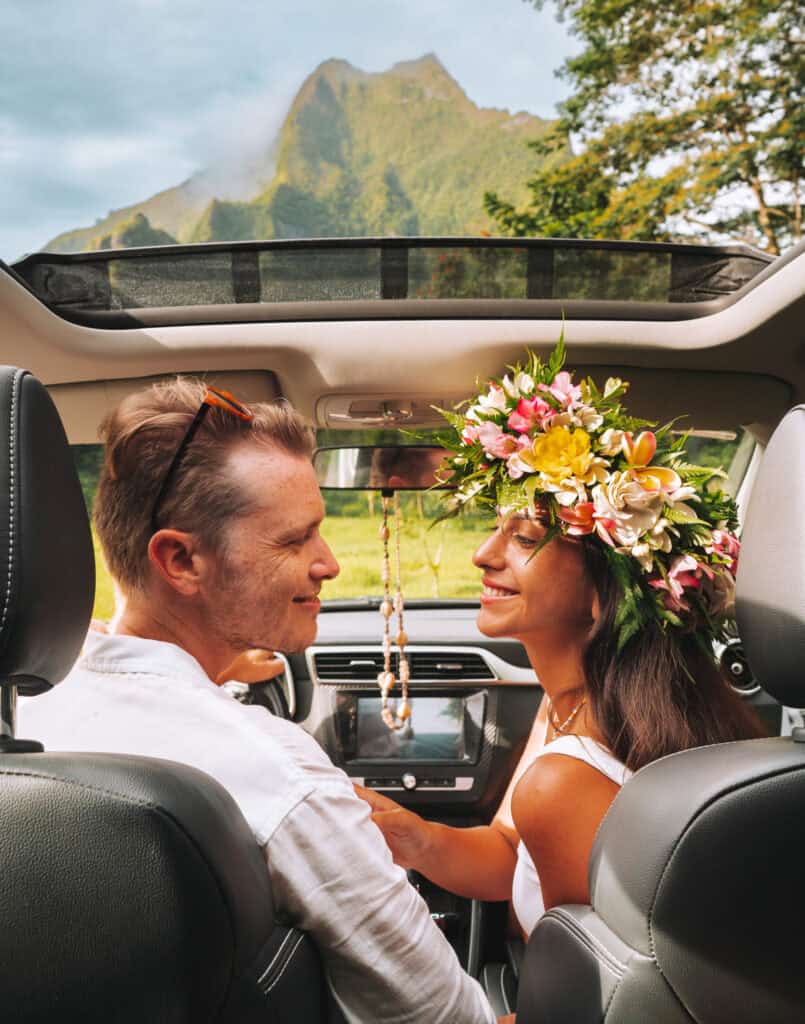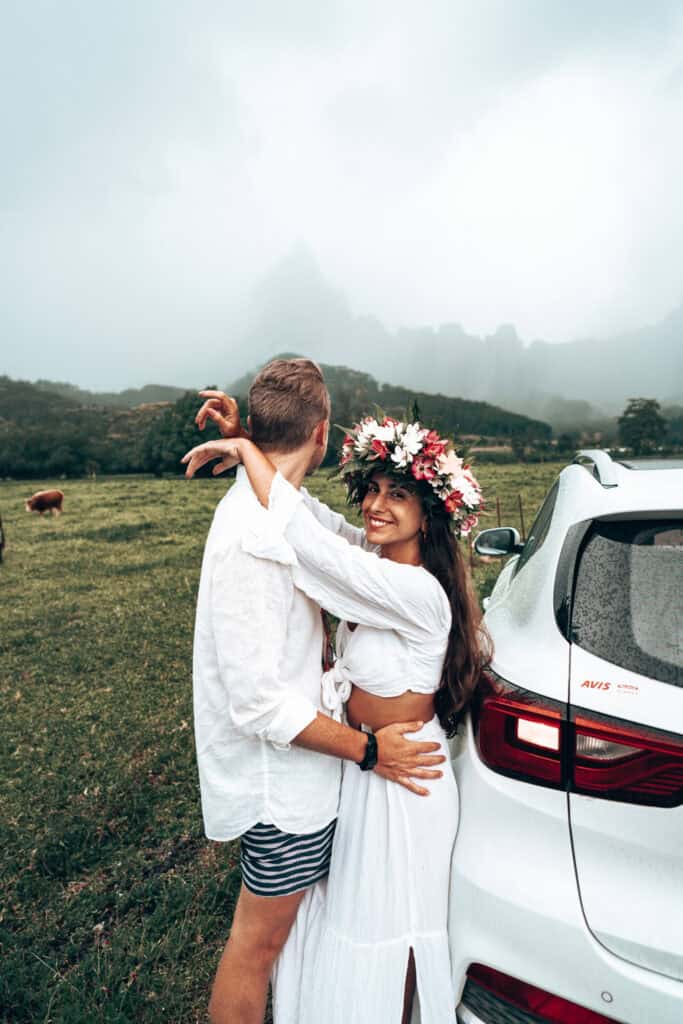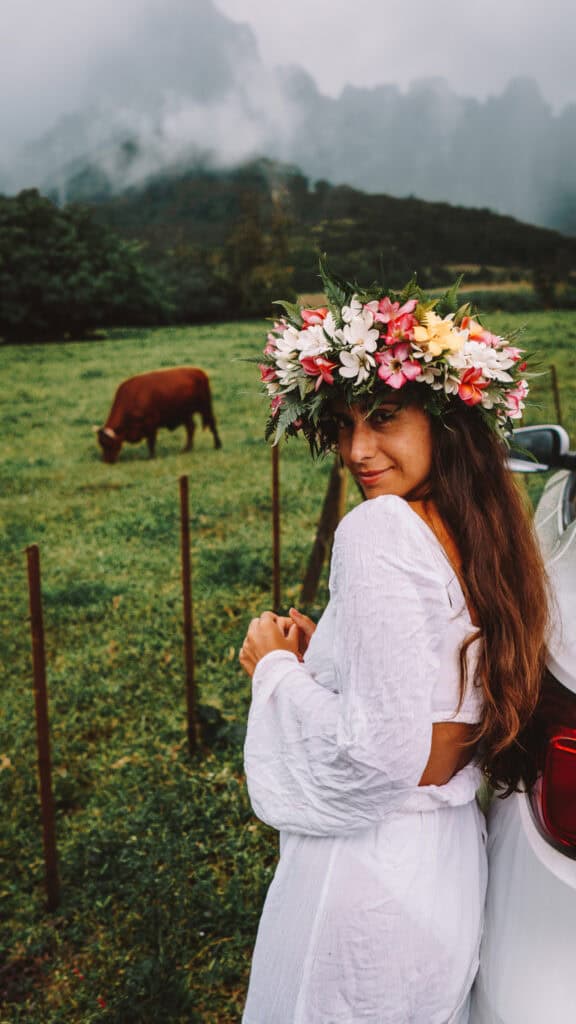 We would love to come back one day and we would definitely come back to Bora Bora and Moorea, but we would love to include new islands into our itinerary, like Tahaa.