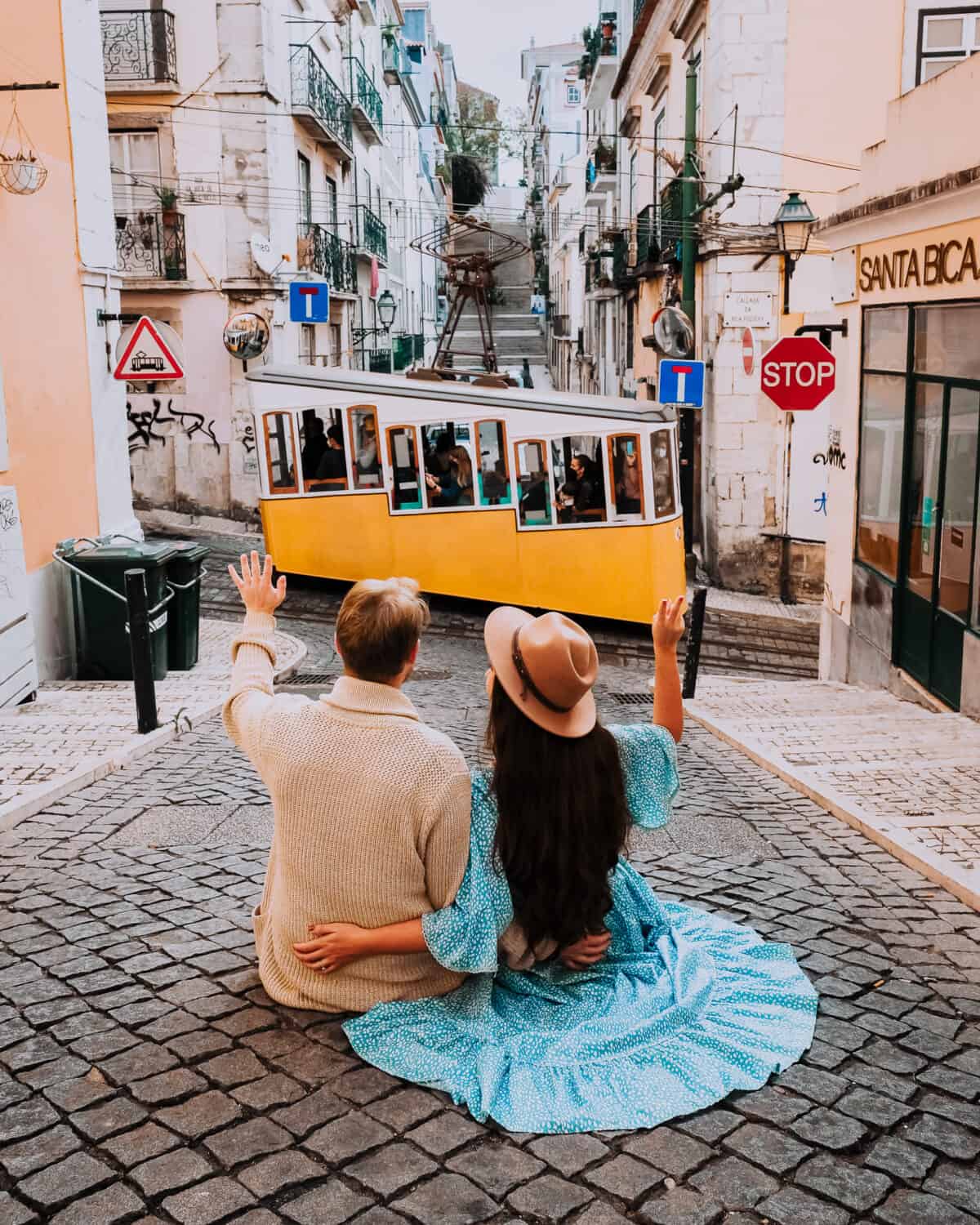 Exploring Lisbon: A Vegan-Friendly Guide to Romance and Adventure
Welcome to Lisbon, a beautiful vegan friendly city full of unforgettable experiences.
In this guide we will share with you our favorite photography locations, the best vegan restaurants in Lisbon, a selection of romantic hotels that promise to elevate your stay as well as other tips like when is the best time to visit this city.
If you are interested about The Best Instagrammable locations in Porto, read it here
Places You Can't miss
Elevador De Bica
It is one of the most famous locations in all Lisbon.
A historic funicular dating back to the 19th century. With vintage charm and panoramic views, this ride connects 2 vibrant neighborhoods, Baixa and Bairro alto.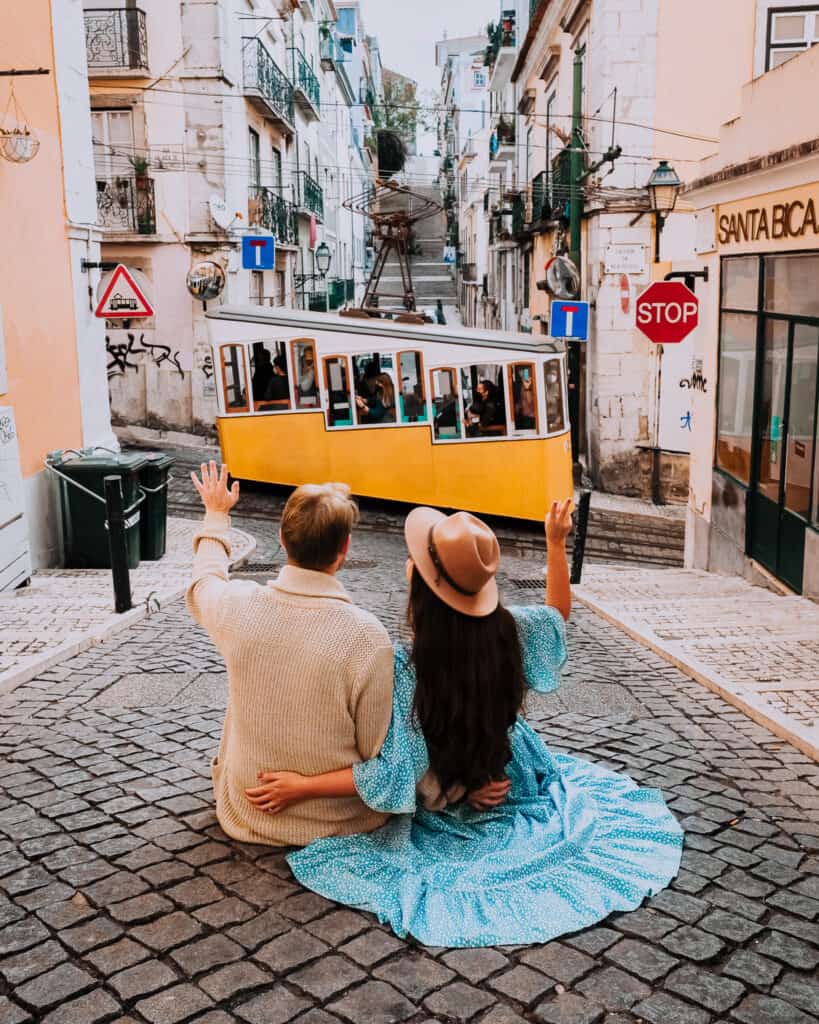 Price: Around 4 euros for a return ticket (5-10 minutes)
Mirador de Santa Lucia
Miradouro de Santa Luzia, nestled in Alfama, offers more than a view—it's a visual journey. Adorned with vibrant azulejos, this terrace frames Lisbon's rooftops, the Tagus River, and São Jorge Castle.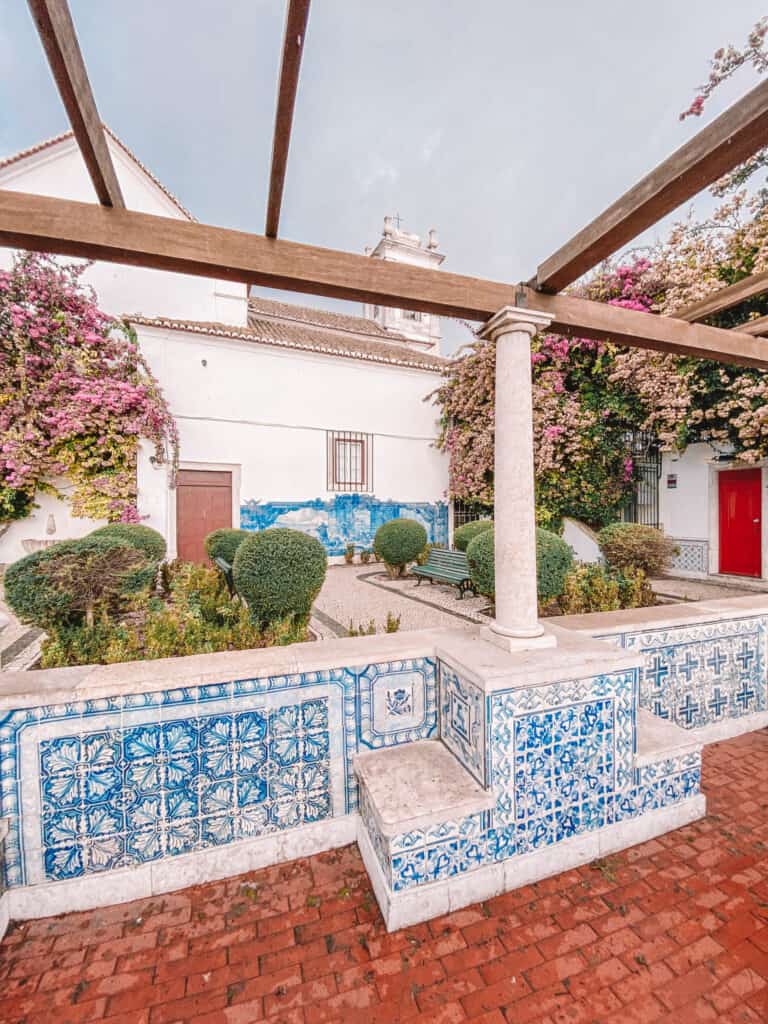 Capture Instagram-worthy moments, immerse in Alfama's soul, and feel the cultural richness.
Funicular De Lavra
It is the city's oldest funicular. Dating back to 1884, this charming ride offers a glimpse into the past while connecting you with the city's vibrant present.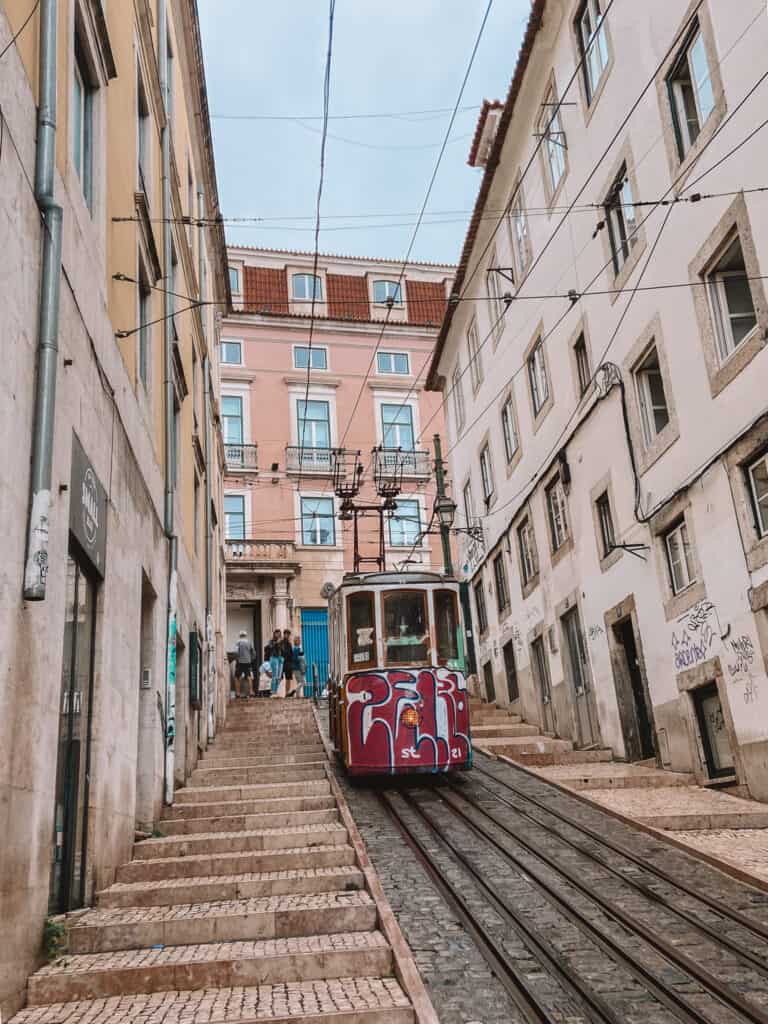 Climb Lisbon's hills in vintage style, capturing its essence and energy along the way. Funicular de Lavra isn't just transportation; it's a journey through time and an authentic Lisbon adventure.
Read The Best Photo Locations in Porto, Here
National Tile Museum
We didn't have time to visit this wonderful place, but we will for sure next time.
This museum will bring you back in time and all the colors of the tiles and the architecture will surprise you for sure.
You can get here by public bus or taxi
Torre de Belem
This iconic tower, built in the 16th century, stands as a testament to Portugal's exploratory spirit.
Explore its intricate details, enjoy panoramic views of the Tagus River, and immerse yourself in the stories of the Age of Discovery.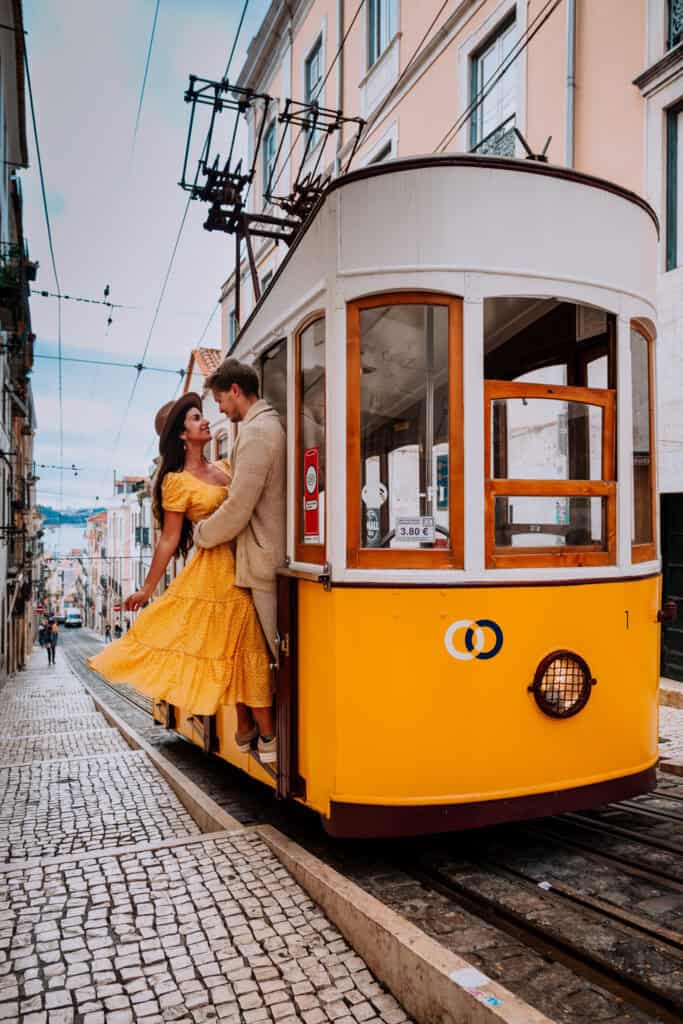 It is probably the second most famous street in all Lisbon.
We visited right after breakfast as it was close to our Airbnb and we found a very dirty street, covered with plastic glasses.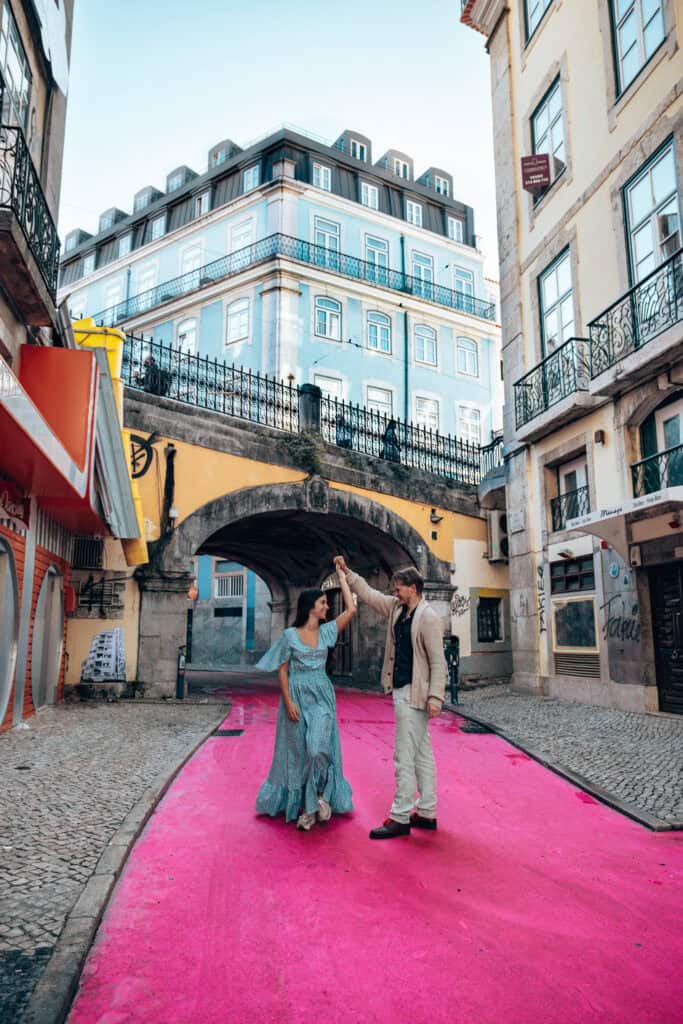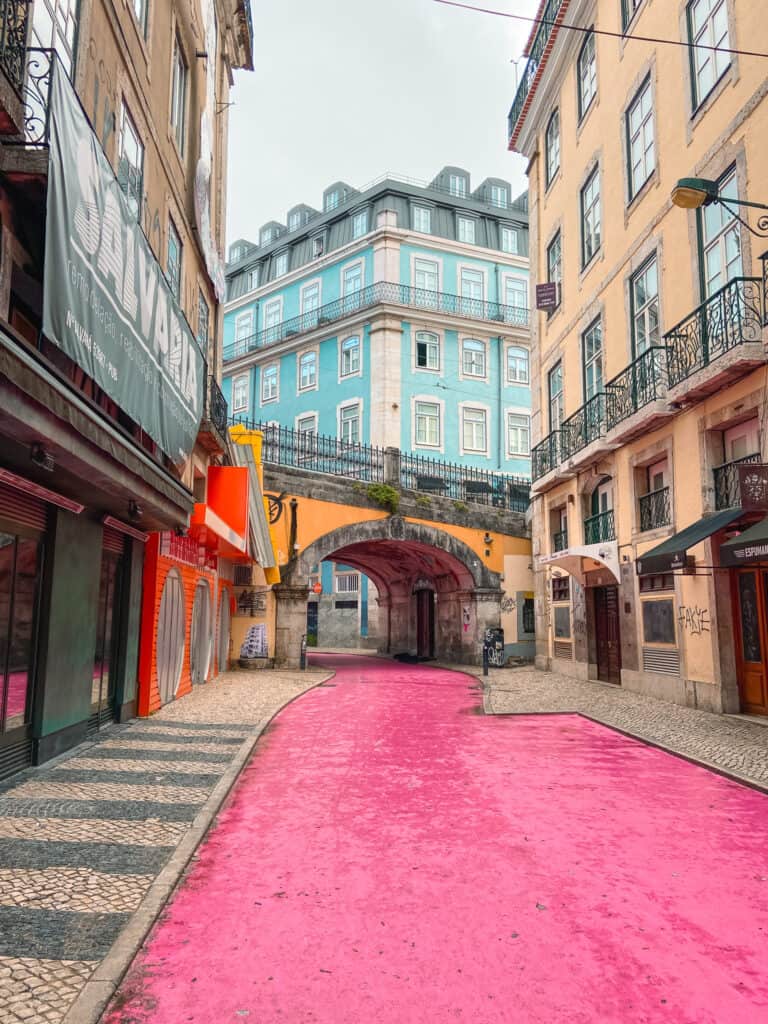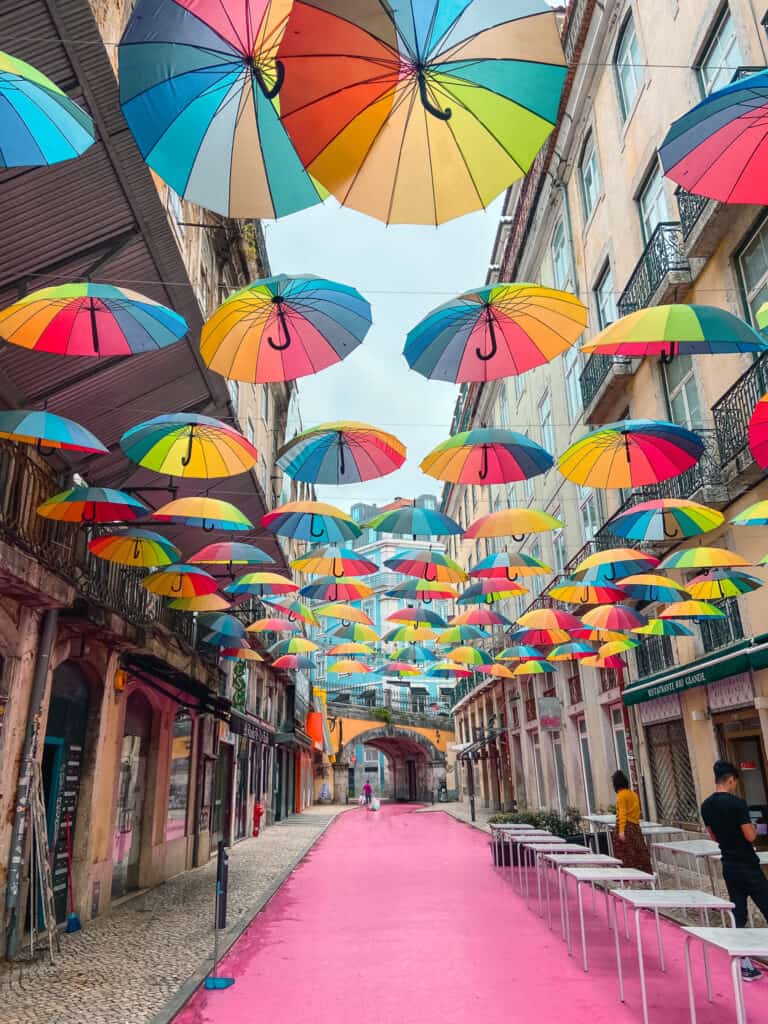 Very different from what we see on instagram. It turned out that this street is where all the bars are and people were throwing trash on the floor.
Other Instagrammable Locations
Photography enthusiasts will find Lisbon to be a playground of visual wonders. Capture the captivating mosaic tiles of Rossio Station, the vibrant storefronts of Bairro Alto, and the stunning sunset hues at Miradouro das Portas do Sol.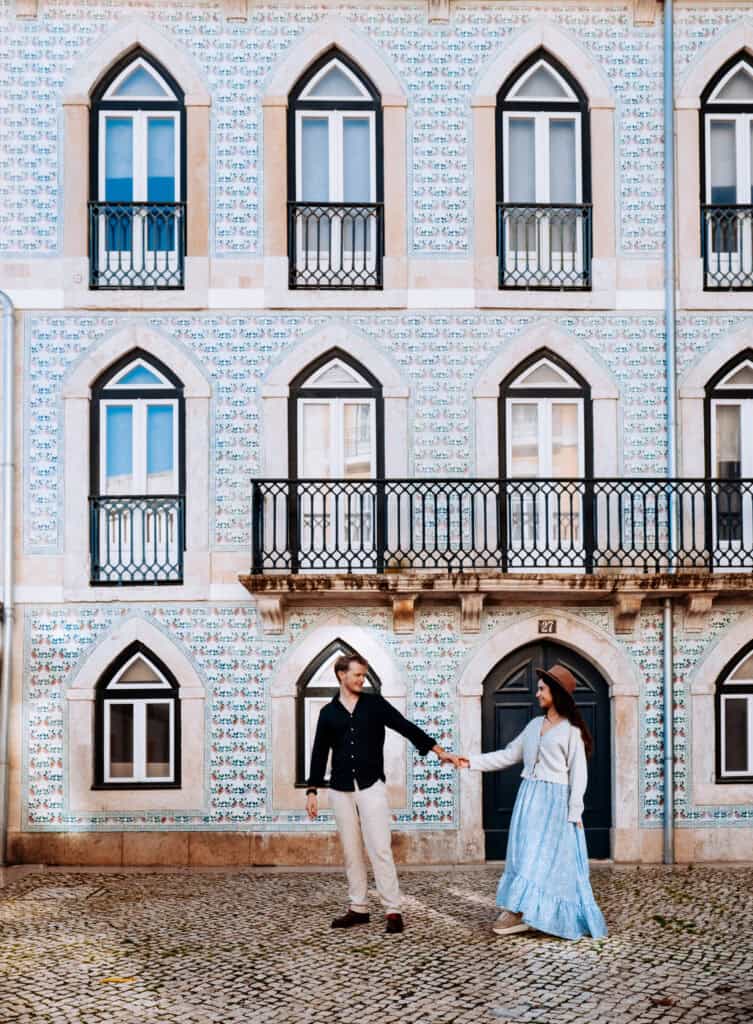 Another place is The Santa Justa Lift is the fastest way to get from the Baixa neighborhood to the Barrio Alto district.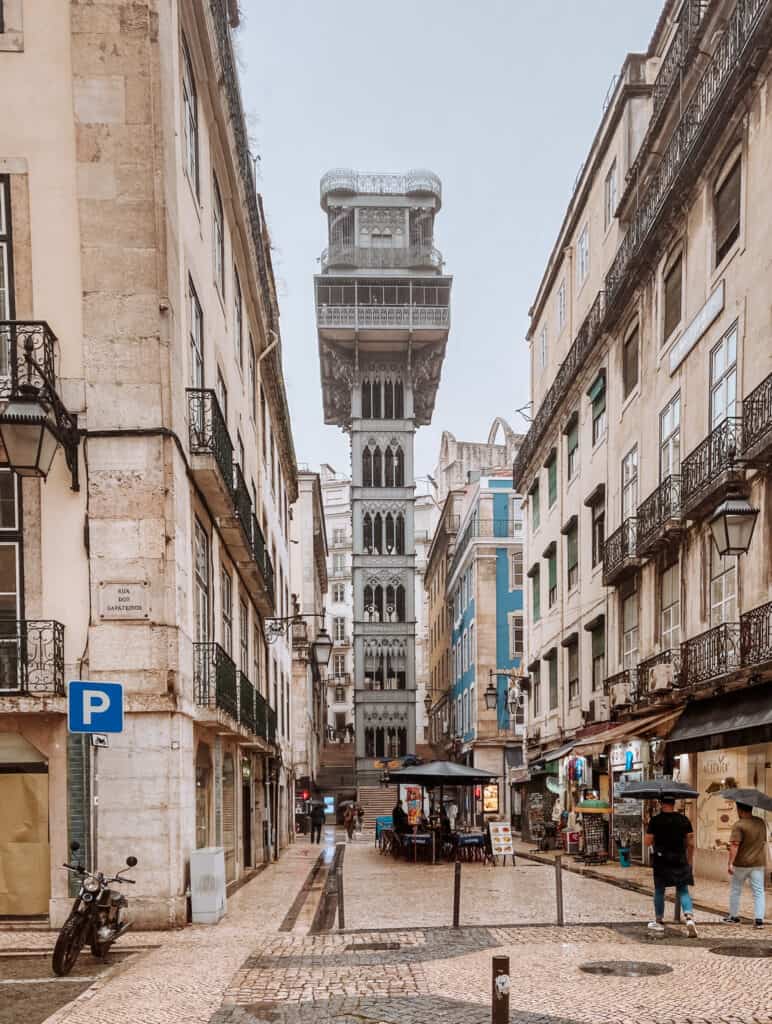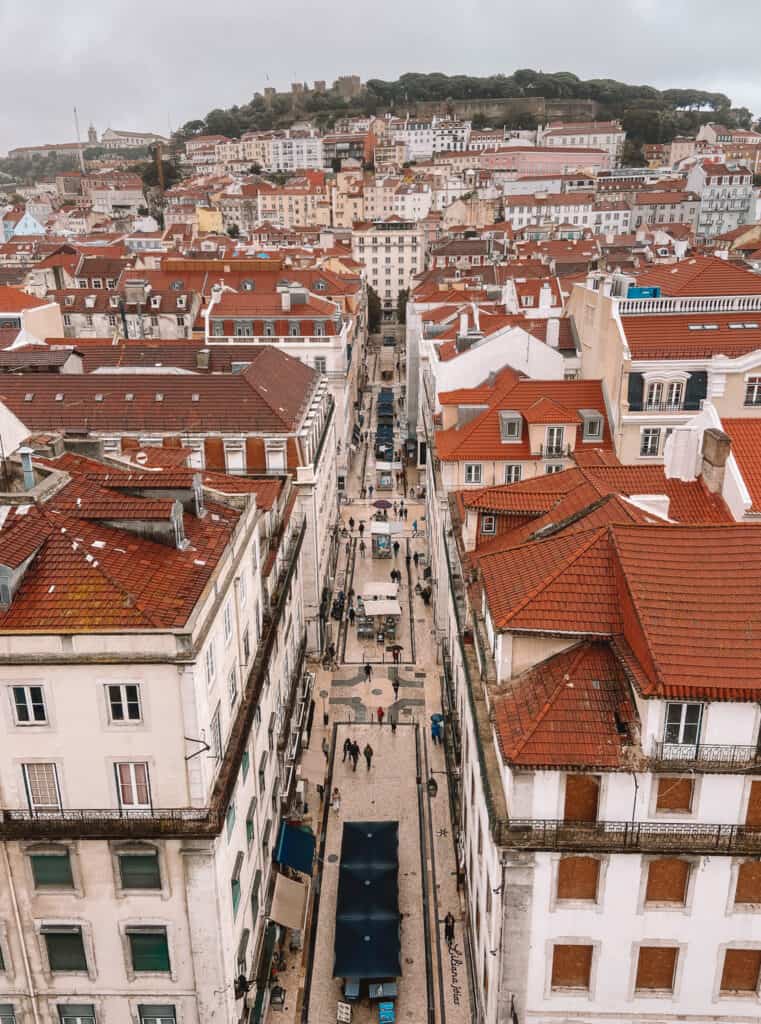 Prices: A return ticket at the entrance costs €5.15.
If you have a 7 Colinas or Viva Viagem card it will cost just €1.45 each way.
You can also buy the Lisbon Card, which will give you access to 23 different museums and several landmarks for only €20.
Love photos? Check our Porto Guide (Includes Locations!)
Where To Eat – Vegan friendly
We came here during our first day for brunch with a friend as they had vegan options.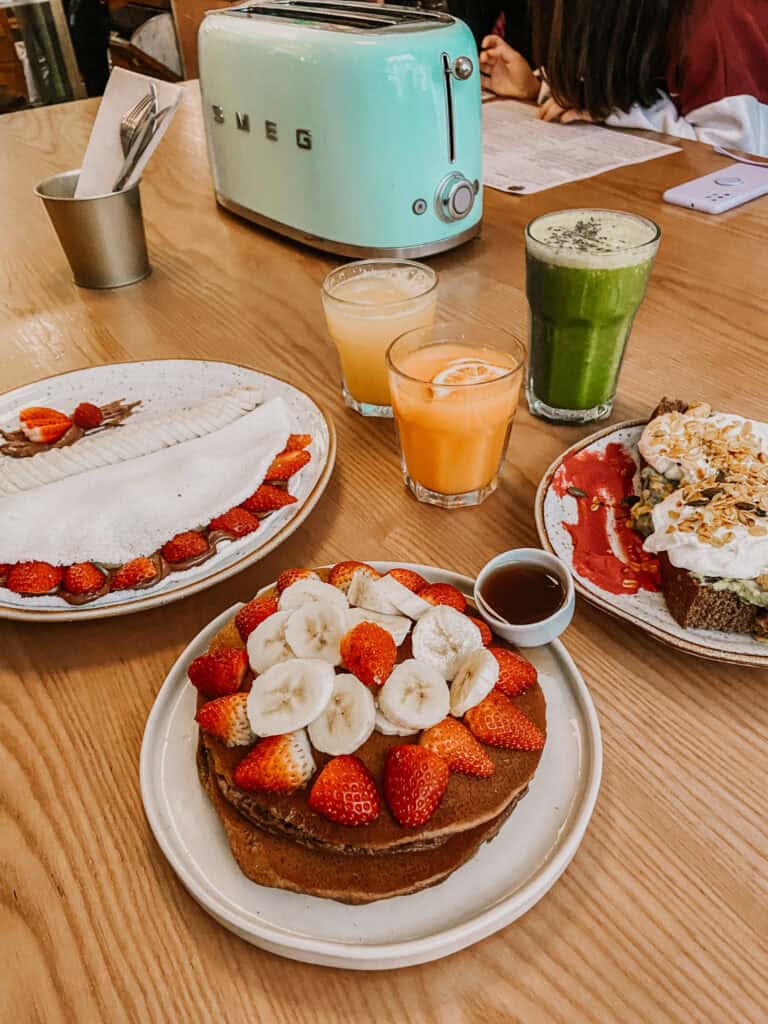 We had pancakes with smoothies
We found this cafe as we were walking in the heart of Lisbon.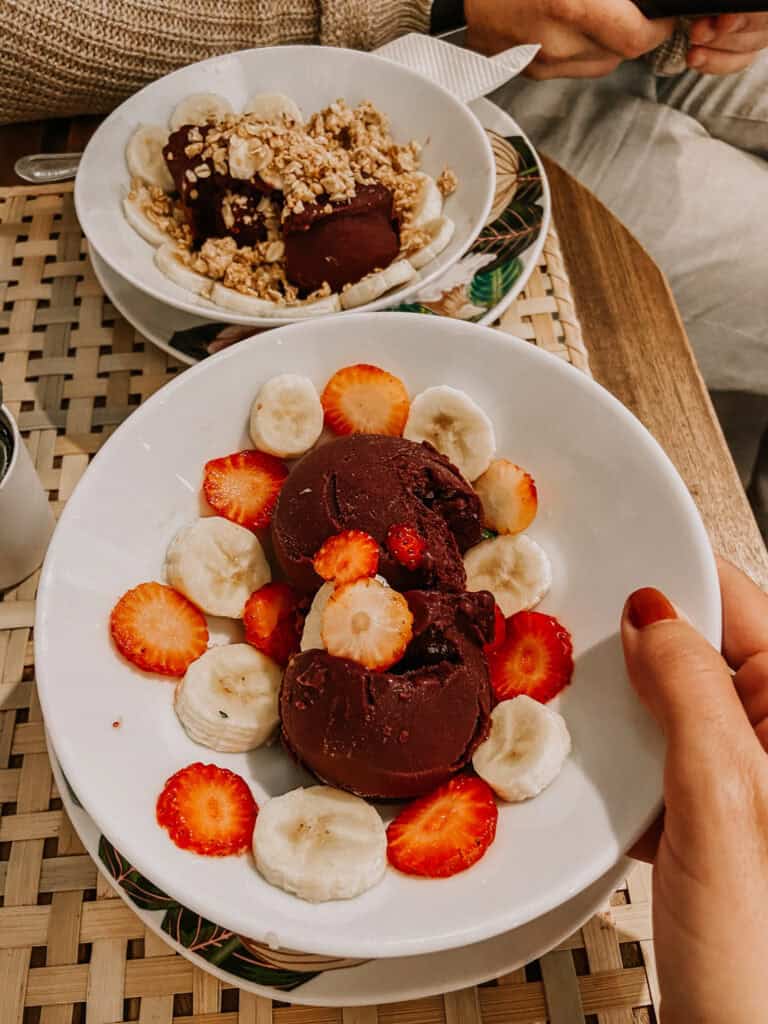 It is perfect for açai bowls
If you love Indian food, you will love this 100% vegan all you can eat in Lisbon. We came for lunch and it was really good.
After traveling in India we can confirm it was authentic food!
BEST vegan pizza we've had in Portugal!
We shared a pesto & mozzarella pizza and it was delicious. Next time we visit Lisbon, this will be the first place we will go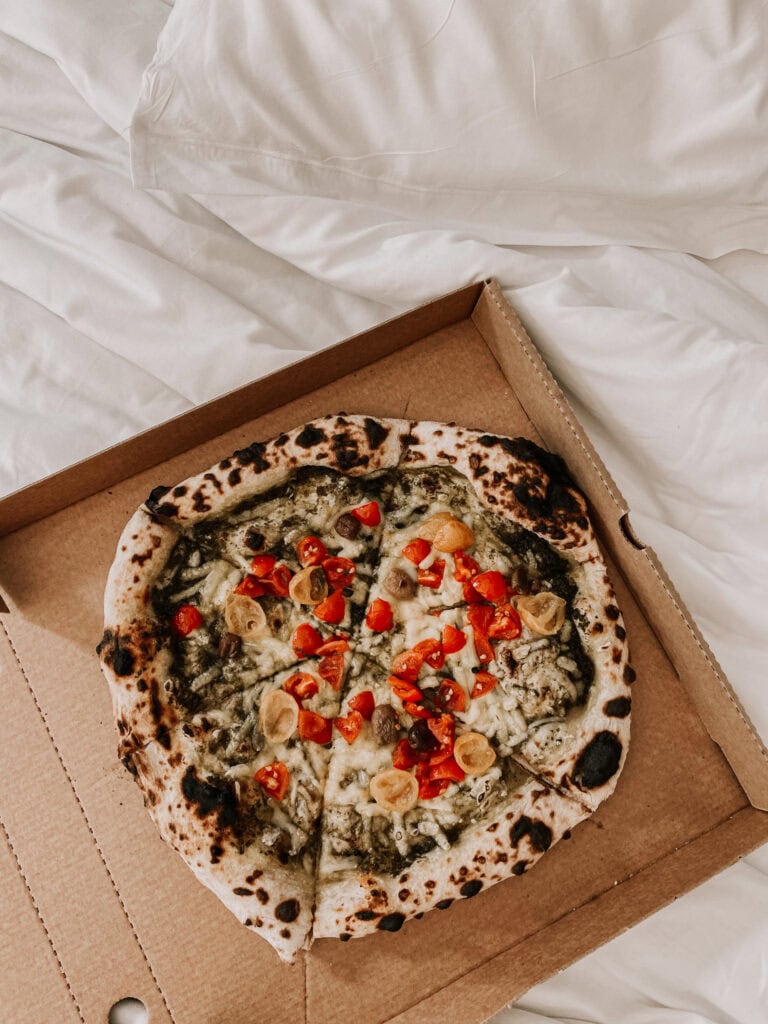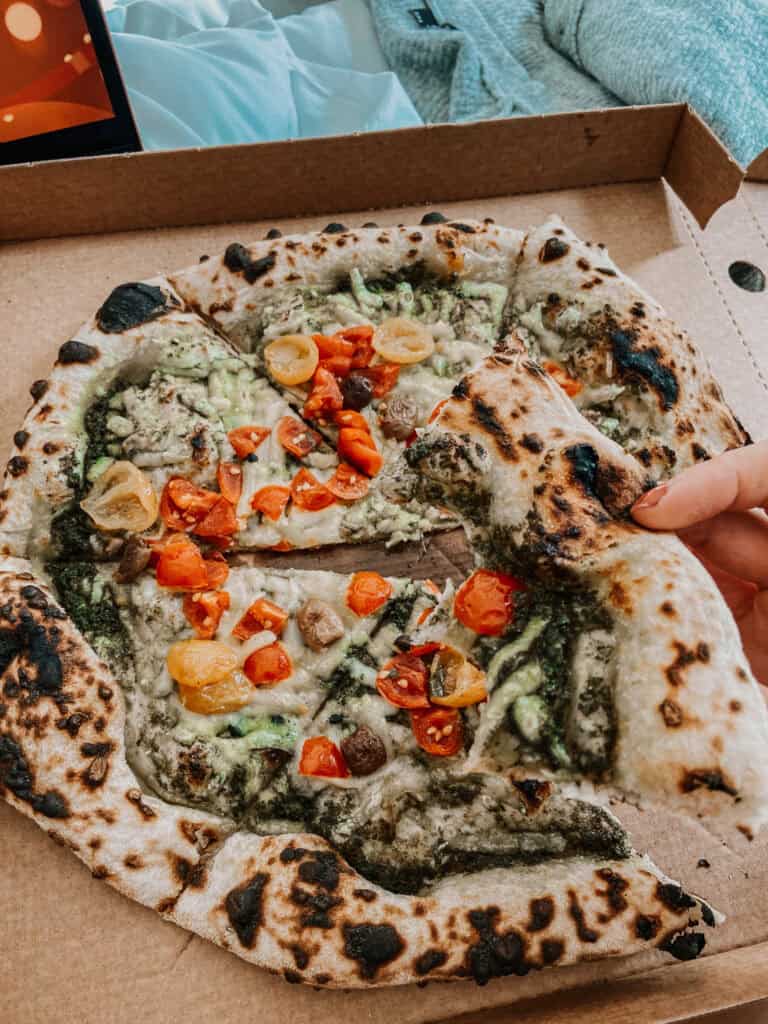 It is not easy to find a 100% Japanese restaurant in Europe.
We ordered the sushi boat which had around 50 pieces of sushi, all different and not just the cucumber and avocado one!
Highly recommended!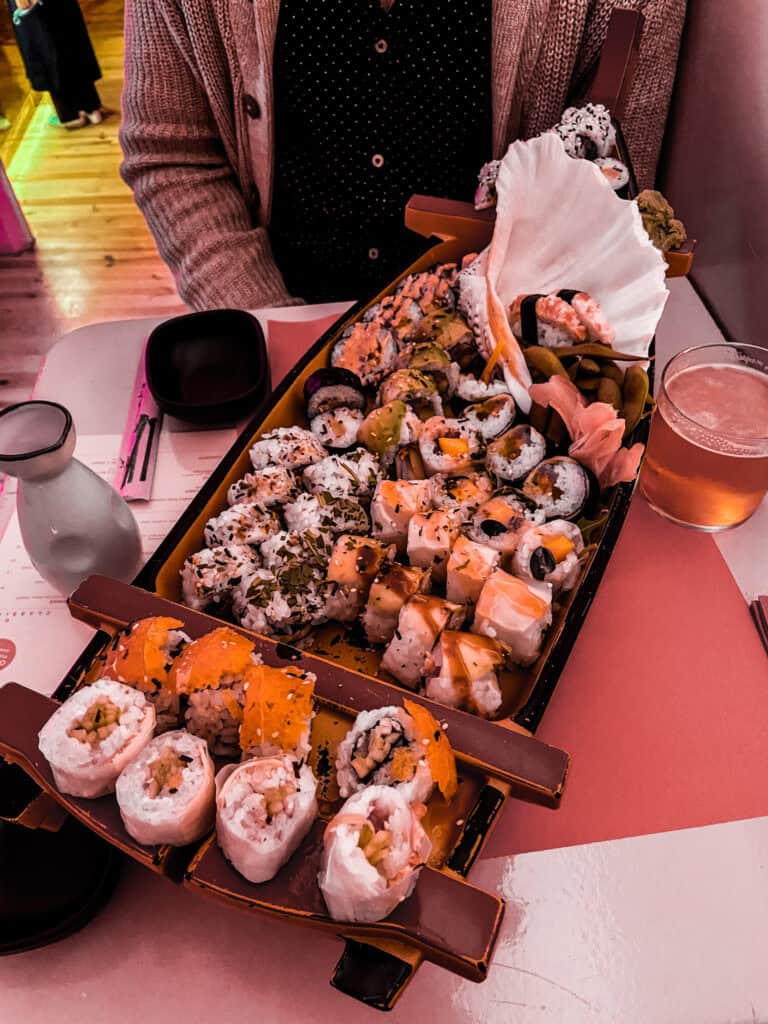 Tip: You can take away or order it and eat in the bar in front of the restaurant like we did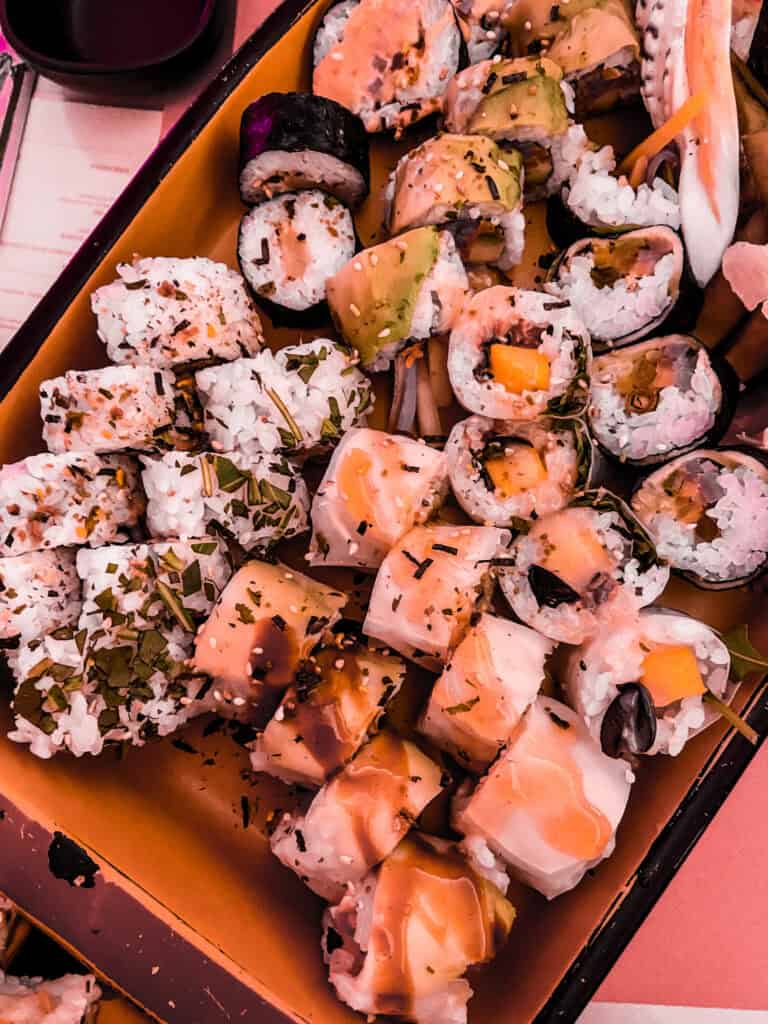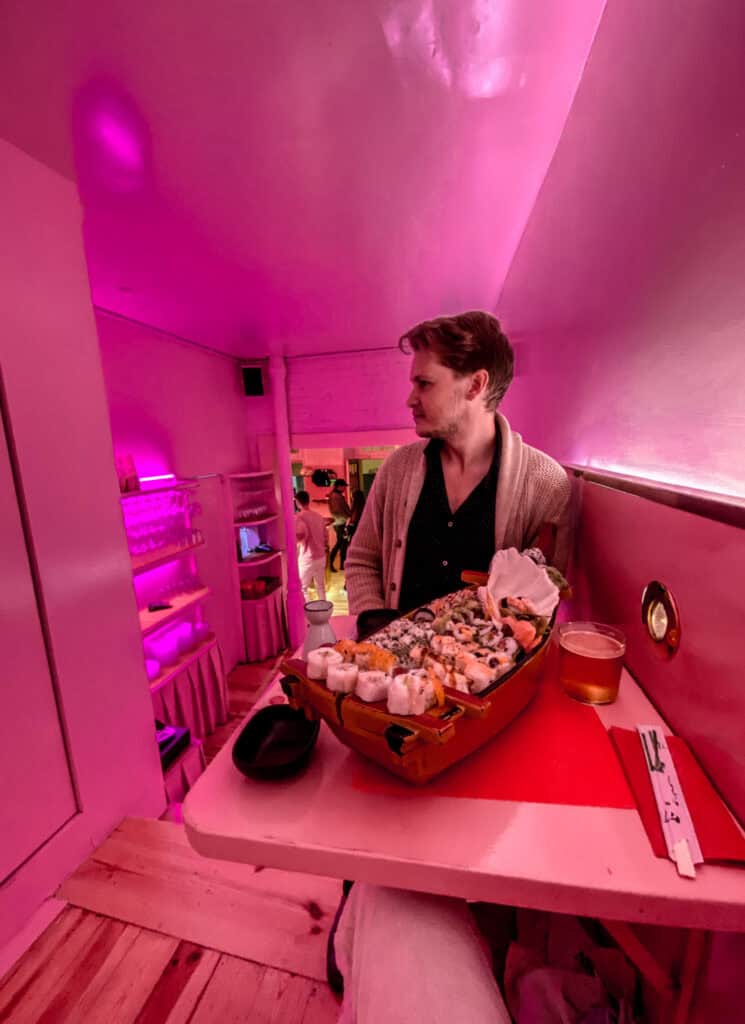 Another vegan restaurant worth visiting.
Intimate eatery offering seasonal and sustainable delights.
We didn't have time on our trip, so we will make sure to try it on the next one!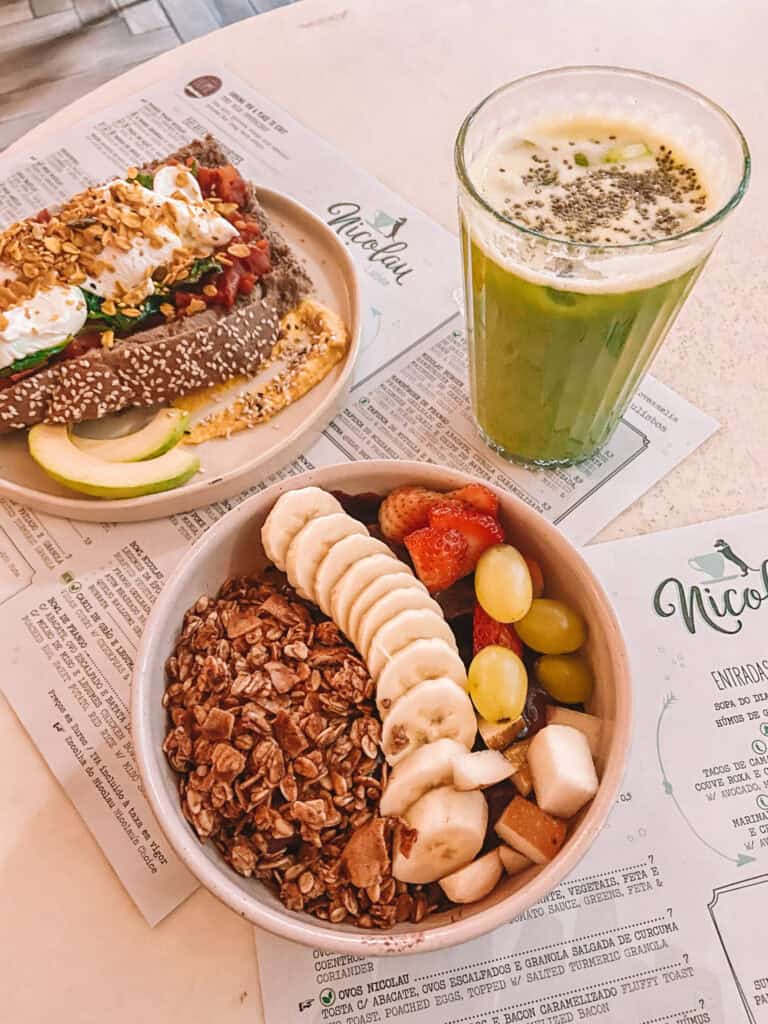 Vegan options for brunch
Other vegan or vegan friendly restaurants in Lisbon are Terra Restaurante Naturista, where locally sourced ingredients take center stage. Embrace an elegant evening at Ao 26 – Vegan Food Project, known for its inventive vegan gastronomy.
Romantic Hotels in Lisbon

Indulge in Lisbon's romantic essence by staying in exquisite hotels that redefine luxury. It has a lovely panoramic views and sophisticated design.
For a royal experience, the Palacio Belmonte offers an oasis of tranquility within a historic palace.
Boutique options like this one will capture the intimacy of Lisbon's old-world charm.
It's the perfect hotel if you are looking for luxury and intimacy
If you love Four Seasons Hotel, read our article about Our Honeymoon at Four Seasons Bora Bora here
Best Time of the Year to Visit
We came during the end of October and we got some rain and it was colder compared to our home city, Alicante.
Lisbon's climate offers distinct experiences throughout the year.
Spring and fall present comfortable temperatures for leisurely exploration, while the summer bursts with energy and festivals.
Winters are mild but can get humid and cold, inviting intimate strolls through historic neighborhoods.
Choose your travel season based on your preferred ambiance and activities.
Our Final Conclusion
Lisbon, with its captivating blend of romance, vegan delights, and cultural treasures, is a destination that promises memories to cherish.
Immerse yourself in the city's charm, capture its beauty through your lens, and savor every moment of your Lisbon adventure.
Your journey awaits, where love and exploration intertwine to create an unparalleled experience in this European gem.
If you love Portugal, read about The Best Things To Do in Porto here