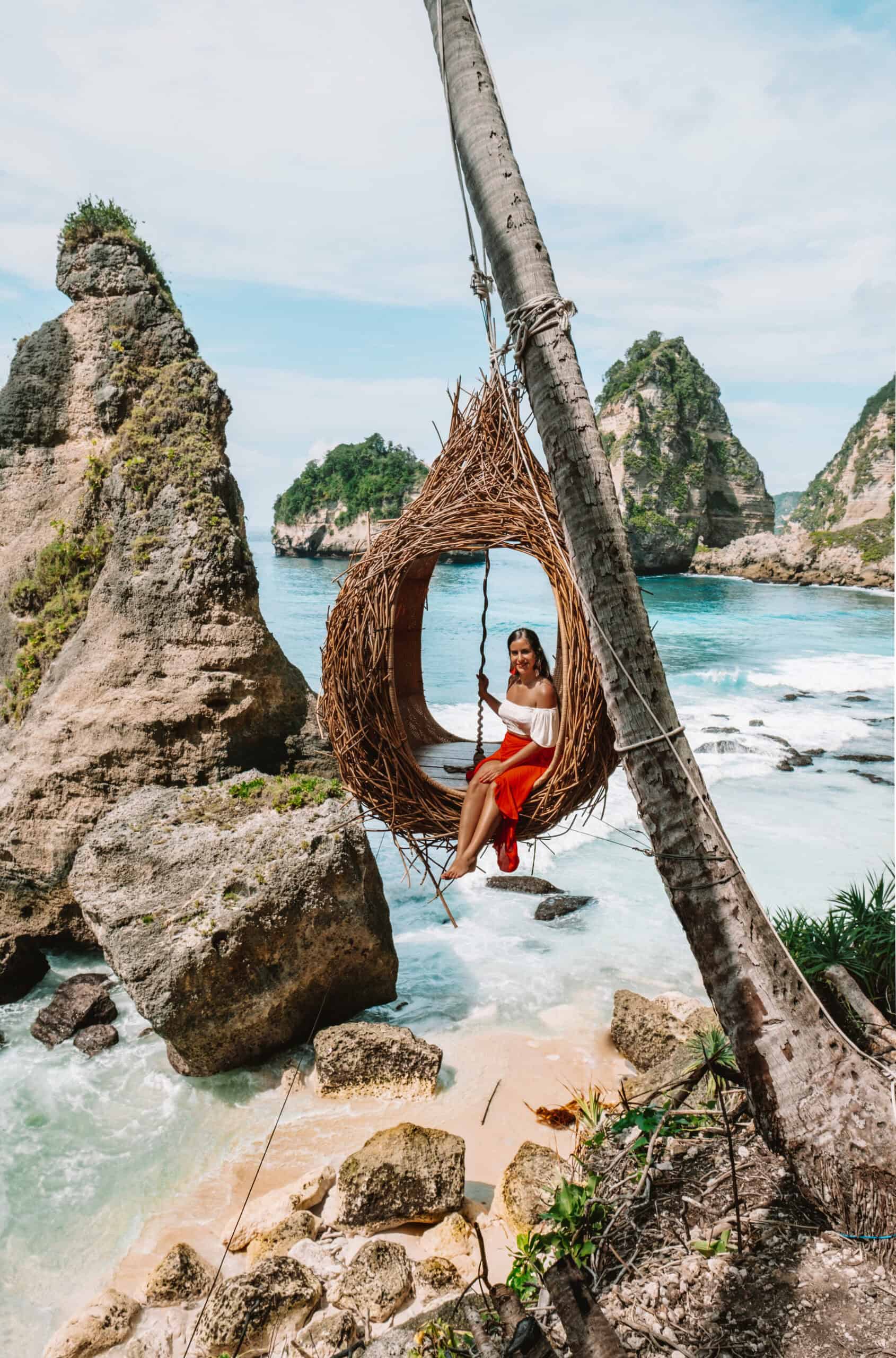 Nusa Penida Revealed: Your Ultimate Travel Guide
Nusa Penida was by far my favorite place in Bali. At the beginning we weren't sure if we'd had enough time to visit it or if we should just spend one day there. Thankfully we decided to go for two days, and we loved it! I'd stayed longer If I could. What a beautiful place!
I'm going to share with you the itinerary I organized with the help of Nusa Penida Trip . Make sure to bring enough water with you and sunscreen as the sun is very strong here!
Day 1
– KELINGKING BEACH
We got the first boat of the day to the island for approx. 40 min, then went straight to our hotel La Roja to leave our things. First location on our list was the dinosaur cliff or Kelingking beach. As most of the people that come to Bali, I was very excited to visit this place, and I wasn't disappointed. It is true that the main place for photos is very crowded and you will need to queue for one. But if you keep going up the hill you will find different empty places for yourself where you can take great photos.
We decided not to go down to the beach as we didn't have enough time and we were wearing flip flops. It is quite dangerous and takes around 1-2 hours!
– BROKEN BEACH
Another beautiful place in Nusa Penida. We found the island less crowded than we thought it would be. It is an incredible little bay that has a natural arch leading out into the ocean. It was even more impressive from above.
– ANGEL'S BILLABONG
It is a pretty rock formation that looks like a natural pool next to the broken beach, this place was quite busy compared to the others. Although I've seen many photos of people going into the water to take pictures, it is almost forbidden as some tourists injured themselves due to the strong currents that come to the rock pool. If you want to get into the water, you'd need to come at sunrise as the water level is not that high.
– CRYSTAL BAY BEACH FOR SUNSET
We loved this beach! Although it was the busiest place of Nusa Penida. there were too many people it was almost impossible to get photos unless you come here at sunrise!
We rented some hammocks and buy some grilled corn (If you are vegan, ask for it without sauce as it contains butter) and fresh coconut. One tip.. Ask the waiter to open the coconut so you can eat it with a spoon once you have finished it.
Love the palms near the sea and the rock surrounding the pool. We didn't go inside the water as it was going to rain and the waves were pretty big!
– FLOATING BREAKFAST AT LA ROJA
For a long time I wanted to stay at this hotel that is right in the main street. Our room was amazing and really big. We were surprised with a floating breakfast in the morning and they helped me veganize my menu! It's something you need to do at least once in your life. La Roja Hotel
Get 25$ off on your next AirBnB stay here
After breakfast we headed to my favorite place in the island. Diamond beach, oh it was so pretty and the water crystal clear. Getting to the beach it's not as easy as it seems in the photos, you will need to go down very long "stairs" and there was one part where we were a bit scared because you need to grab a rope to keep going down!
Once you are down you will find a cafe with 3 different swings, they would ask 100k for each one, we got 2 swings for 70k!
Make sure you come in the morning as the water leave gets very high in the evening and the beach is almost gone. If you come before 10 am you may have Diamond beach to yourself.
We stopped for lunch in a little cafe a little bit up the beach, where they had some fried tempeh with rice and fresh coconuts.
Read here our guide about this beautiful beach
It is only a few minutes from the last beach. To get there you will need to go down some more stairs. The view is totally worth it, you will see Diamond beach from the other side. If you keep going down you will find the famous tree houses.
HOW TO GET THERE
To get to Nusa Penida you will need to go to Nusa Dua harbor and find your boat. We recommend buying your tickets online as it will be easier and you will make sure to get the first boat.
Our Nusa Penida Trip included the boat tickets, as most of the packages they sell. If not you can find it on google to find the right prices.
It will take approx. 40 min to get to the island, once you get there your driver will be expecting you. If you haven't booked any, we went with Nusa Penida Trip and loved it!
We would definitely recommend visiting Nusa Penida and stay for 2-3 days, as It is one of the most unique locations we have seen in Indonesia. Hope you enjoyed this travel guide as much as we did and let us know if you'd like to know anything else!